January/February, 2001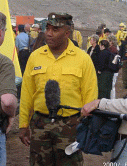 Attention.
We will dispense with the chatter and get straight to the business at hand.
The "760 Morning Madness With Mad Mark and The Dude" radio program has been given a Section 14F. My ex-partner Mad Mark Sabatini was relieved of his duties as a result of a remark he made during a live broadcast of our show which was originating from the Lighthouse movie wrap party in Stonebridge.
The trouble began when Mark dedicated a song called "She Goes Down" by a band called Grim Reaper to Mandy Lynn, the director/star of Lighthouse. He then made an on-air comment about the relationship between Ms. Lynn and her fiancÚ, Western Maine billionaire Claude Velndonom, stating that he hoped all the money Velndonom was showering upon Ms. Lynn was worth the horror of having to "yank his withered gray gherkin." Mark was fired the next morning and has not been seen since. His empty car was found off Hwy 13A near Lobster Heights.
Yours truly will still be heard each weekday morning from 6:00-10:00, but I will be joined by a new co-host: Rockin' and Boppin' Freddy --the owner of Western Maine's largest and therefore best oldies record store: Golden Memories.
Rockin' and Boppin' Freddy
The 760 Goodtime Oldies Bunker!
The show will be a godsend for all of you out there who can't get enough of my hard-hitting patriotic military news and views, but also enjoy the great good-time music of artists like the Moonglows, Olympics and Del-Phonics.
---
Please be advised that I have not been shirking my duties as label chief of Stereolaffs records. I am pleased to announce the label's next release:
The Greatest Speeches Of General Theodore Macy
General Macy was, as you all know, the chief officer responsible for moving Michigan Army Headquarters from Flint to Ann Arbor in 1974. The 2 CD set features all of his public speeches as well as several bonus tracks featuring the General's private Dictaphone recordings on such diverse topics as expedience, motivation, collation and marching . Order soon because there is a limited press run of 100,000.
At ease.