October 26, 2000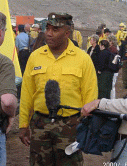 Attention!
At ease.
You will listen to what I have to say and then you will about face and march to the mess area where you will be served a balanced meal courtesy of Uncle Sam.
It appears that the master tape of the "Disco Ayatollah" single cannot be accounted for. I entrusted it to the care of the U-Store It storage facility in Fayetteville, NC in August of 1980 and assumed it would still be there. The facility is no longer standing in the aforementioned quadrant. The quadrant now houses a Wendy's Handburger restaurant. The tape is lost.
I have assembled a crack band to help me re-record the smash song next week. The band consists of the following local Western Maine music stars:
Rod Gertling-Bass (The Rod Gertling Xpress)
Doug Sheffield-Drums (Top Flight)
Bern Dorn-Guitar (Bern Dorn Band)
Luther Hernchon- Keyboards (Custody)
I will be handling vocals and congas.
The tracks will be recorded @ Crabzone Recorders by legendary producer Zel Platt (Cary's Mini Bike Ride, The Blip Concern, Two For Flinching, Fudge Nudger, Murple). We are going to record a brand new song I've been working for the b-side. It's called "All The World Is A Boot Camp."
In other label news: The Rory Blake CDs finally made it to our offices. The CD will not be made available through this label. I find the contents offensive and anti-American. I am in contact with other recording companies in regards to the hopeful purchase of the 27 pallets of CDs.
Reveille is now @ 03:00.
You will get out of your bunks at such time and tune into 760 AM and listen to "The Major In The Morning" show. The program is hosted by yours truly and will feature a side of the Major rarely seen -even by his wife. I plan to "let my hair down," as you civilians are fond of saying. "The Major In The Morning" program will be a cross between Don Imus and Full Metal Jacket.
It was nice to meet a few of you last week at the opening of Mr. Velndonom's Dudley Shop. The seafood was soft, the cheese was hot and the lemon nippers were spicy. I am sorry for the events that took place and I hope they in no way affect the morale of this platoon. Also, would the person who took our dog Zoompa's sweater please return it?
Dismissed!