September, 2000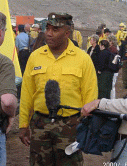 Major Larkinson briefs the media during last month's reconnaissance mission
Attention!
At ease.
My name is Major Bradford Larkinson (Active). My close friends call me "Detroit," you may not. You will address me as "sir" or "Major."
I am displeased to announce that the Mike Velndonom reconnaissance mission this past August was a failure. My men and I did our very best to locate the boy but we came up empty-handed. All we found was a patch of Mikeís leg hair that was being sold in an open-air market as some kind of aphrodisiac.
Mr. Velndonom has requested that I take over his grandsonís record label until the boy is present and accounted for. I told him I would, as long as he allows me to run the label as I see fit. His reply was, "Yes sir, Major, sir."
Next, I would like to thank everybody in the West Bentonton area for welcoming me, my wife Joyce, our God-niece Kelsey, and our dogs Chitz and Zoompa to the community. We look forward to meeting several more of you, if time allows.
I am now informing the public that the first Stereolaffs release under my command will be "Disco Ayatollah," a record I made in December of 1979, under the name "Major Hustle," for the Ann Arbor-based Phonogrand label. The song was a regional hit in the ensuing months, but didnít become as big as it should have because the label owner was sniffing drugs and lost control of his command.
Believe me, this record is going to be huge. People will be singing its chorus, "Heís the disco Ayatollah, franks and beans and Coca-Cola, get down, you white-bearded clown," in the streets before Thanksgiving. The songís b-side is "These Boots are Made For Disco Dancin' (and Fighting)." The record should be available by the first of October. All other information will be issued on a need-to-know basis.
Dismissed!