---
Rave On!
Western Maine's Only Rock 'n' Roll Paper
*a Velndoco Publication
---
August, 2000
Local Record Label Chief Missing
Stereolaffs president Michael Velndonom was reported missng by Taiwanese officials on August 5th. Although Velndonom was in the country on business -his goal was to rescue 40,000 copies of Rory Blake's Toilet Tunes Vol. 1 being held in the country's customs warehouse on grounds of indecency- it has been reported that he was last seen renting a hanglider near the small fishing village of Kim Po. Velndonom was no stranger to the world of hangliding, having taken home 2nd and 3rd place trophies in the last two Western Maine Amateur Hangliding Association Challenges.
Velndonom's grandfather and local construction/entertainment mogul Claude Y. Velndonom has dispatched a search party to the region to find his grandson. Older readers will recall the ill-fated Iranian hostage rescue attempt Mr. Velndonom organized in July of 1979. Velndonom and his team of 11 soldiers of fortune were discovered hiding in putrid oil drums on an abandoned air strip outside of Istanbul, Turkey by a local policeman. The men were awaiting the arrival of a small airplane they had hired to fly them into Tehran. Then -President Jimmy Carter called the rescue attempt, "Quite possibly the most ill-advised, bone-headed and dangerous thing any American has ever done."
---
Timmins Blows Shot at Brass Ring
Western Maine boy-made good Bob Timmins came to the end of his road to rock and roll stardom on July 23rd when his "The Start of Something Big Tour" rolled into New York City. Read Timmins' tour diary to find out what led up to the heartbreaking show, then read New York Live magazine's review of the performance.
---
King of 'Toilet Radio' Pay-Per-View
Rory Blake has announced that he will be the host of a pay-per-view special on August 26th called Fuc*TV. Blake, who was recently fired by local radio station AM 620 for "indecency beyond the bounds of anything previously thought possible," promises that his special will be "like watching three porn flicks, all the Die Hard movies, ECW and a public execution, all at the same time." Blake was also quoted as saying that the event will "totally be totally fuc*ed."
---
News and Notes
Western Maine's time-honored tradition of bands basing their image and songs around a specific movie is alive and well. Long-time readers will fondly recall "movie-rockers" THE GRISWOLDS, ONCE YOU'VE HAD A MAN WITH NO LEGS YOU'LL NEVER GO BACK, and SGT HULKA (who scored a minor hit in 1985 with their song "I Don't Know What Kinda Stunt You Guys Pulled At Graduation" ) touring Western Maine over the years. The newest keepers of the flame are new local favorites THE BUSHWOOD SIX. Using the motion picture Caddyshack as a launching pad, the band depicts highlights from the movie through songs like "Sit Down Danny", "So, I've Got That Going For Me", "I Never Slice" "Gunga Galunga" and "Tie Me Up With Your Ties, Ty (Lacey Underall's Theme)".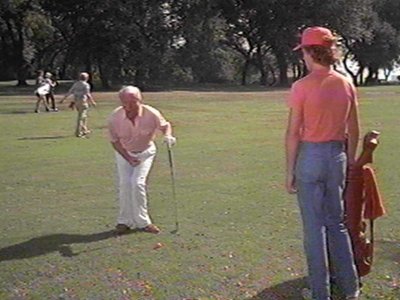 "It's exciting to interpret such an awesome movie onstage through music," bassist Judge Smails says. "We see it as a way to spread the word about a movie that not too many people have actually seen." Other members include Danny (lead guitar, vocals), Al Cervick (drums), Carl (rhythm guitar) and Doctor Beeper (vocals).
---
The Bob Timmins Band have announced plans to play area clubs in what is being called the "Back and Better Than Ever!" tour. But how can the Bob Timmins Band play shows without their leader and namesake, who left the band for greener pastures earlier this year? By hiring away the lead singer from Top Flight, Ronny Johnston! Apparently, Johnston will put down his bass and concentrate solely on singing. "As far as I'm concerned, nothing has changed", states drummer Stan Pettigrew. "From where I sit, all I see is a kick-ass band rocking out. Oh, and now I don't have to stare at our previous singer's pathetic attempt to hide his bald spot."
Top Flight
Johnston is at far left
Bob Timmins could not be reached for comment on the situation, but his manager Walt Billups said that the legality of the band would be looked into and dealt with accordingly. And in related Top Flight news, the band took Johnston's departure in stride. "Some days I look myself in the mirror and ask myself, 'what else can go wrong'?", percussionist Leonard Simpkins commented. "And I guess my question was answered. Thanks a lot for leaving us in the fucking lurch yet again, Ronny."
---
THE FIVE PENTAGRAMS, Western Maine's leading original doo-wop act, has taken their cloaks and greasy kid stuff out of storage for a reunion tour. "Hail the dark one for this great opportunity to spread the word of doo-wop and our dark master," stated original member Vinnie "The Overlord" Giafusco in regards to the reunion announcement. "It will be a joy to praise the Unholy One onstage through our shimmering five-part harmonies." Best known for its regional double-sided in 1957 ("I Wonder Why" b/w "Lamb's Blood") the Five Pentagrams have not performed for over 30 years. "It's been a long hard climb back, but here we are," Giafusco recalls, laughing. "If we could accomplish any one thing this time out, it would be to show the kids today that groups like Slipknot and Marilyn Manson may have relevant lyrics, but that's just not music. We want to show the kids that doo-wop is the only music to truly pay tribute to the dark one." The Five Pentagrams will be touring with the Shim-Tones and the Olympics on an oldies show called "Remember When?" throughout the greater Western Maine area.
---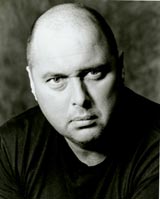 THE MAINE EVENT
by
Perry Shepherd
Editor
Hey folks, it's your old pal Perry checking in again, back with the enthusiasm of a young 'un running down the stairs on Christmas morning to open his presents. The last time we talked, I was in pretty bad shape – if you're not aware, yours truly was the victim of a hit and run at a charity car wash held for the benefit of young Dylan Timmins, who has been left out in the cold by his dear old dad Bob Timmins, formerly of the Bob Timmins Band.
I really have no recollection of a lot of the things that have gone down the pike in the last few weeks, but I'm starting to piece things back together again, slowly but surely. Last week I got out of the hospital – the lower back transplant went as smooth as silk, as did the pelvis repair, and with a little bit of luck and a lot of physical therapy, I'll be back playing left field for the Rave On softball squad before long. And by the looks of things they need me – they lost their last game to the employees of Crab Town Motors 28-2!
On a serious note, there's been a lot that's happened to me over the last few weeks. After recovering from the lower back transplant, I had the fortune of being placed in the care of the very wonderful Dr. Roderick Bworlf, who helped me through some very hard times. After helping heal my body, he set out to heal my mind. I know what you're thinking – "Fixing Perry's mind? Who is this guy, the Miracle Worker?" But seriously, Doc Rod and I did a whole lot of rapping over the last stretch, and he discovered something that I've been keeping a secret from the world – until now.
Doc Rod discovered that I suffer from an addiction that has shamed me for the last fifteen years of my otherwise fantastic life. He diagnosed me as being malafesia aquanafic, which in layman's terms means, addicted to water. I know, laugh it up, it sounds funny. But it's one of the world's fastest growing addictions – right now over 500 people around the world silently suffer from malafesia aquanafic without even knowing what's happening to them.
Apparently the human mind can leech itself to any variety of things to get addicted to. My mind settled on water. I guess I was attracted to its legality, its availability and its relative affordability. But trust me – there's absolutely no difference between getting hooked on water or getting hooked on heroin. I would be compelled to drink between eleven and fourteen gallons of water daily. Doc Rod said that the strain that this water put on my system would've killed me within the next twenty to thirty years unless I chose to seek help.
At first I laughed at Doc Rod. Addicted to water? You've got to be kidding me! I can stop any time I want. He took this as a challenge and had all water removed from my room. His suspicions were validated when I was found a few hours later in the hospital laundry room drinking soapy water directly from a working washing machine. I admitted it – I had a problem.
But now after counseling and treatment, my water addiction is in my rear view mirror. So all I say to you is ONWARD AND UPWARD!
Keep the beat –
Perry