---
Rave On!
Western Maine's Only Rock 'n' Roll Paper
*a Velndoco Publication
---
July, 2000
Speiser Fraud!
Western Maine was rocked on June 7th when it was announced that not only would there be no local performances by former Men at Work drummer Jerry Speiser, but that the skinsman from Oz never had any intention of setting foot in our fair state -or country for that matter! It seems both Western Maine and Mr. Speiser are the victims of what will no doubt go down as rock's greatest hoax.
Local promoter Gar Larson became suspicious when he was unable to contact Mr. Speiser's manager Theodore "Tud" Ogelsby after submitting a $10,000 deposit for the tour. " I'm (Expletive deleted)," Larson said. "That (expletive deleted) has essentially taken the food out of my children's mouths, ruined my career and taken a big ol' steaming (expletive deleted) on my face."
Oglesby in Fall of 1999
Ogelsby was apprehended on June 14th in Canton, Ohio and charged with fraud. He faces similar charges in Montana, Vermont and West Virginia for taking deposits and failing to deliver appearances by Garry Puckett and The Union Gap, Duran Duran, Hitler's father's remains and the cast of South Park.
When contacted at his home in Melbourne, Australia Speiser expressed bewilderment at the situation. "What the (expletive deleted) is Western Maine," he asked.
---
Rave On Editor Hit By Car
Rave On is saddened to announce that longtime editor Perry Shepherd was seriously injured last week when he was struck by a hit and run driver. The incident took place during the the first annual "Dollars For Dylan" charity car wash in the Golden Memories record store parking lot in Shiptown. The event, organized by Shepherd, was staged to collect money for little Dylan Timmins, son of recent Western Maine success story Bob Timmins. Dylan and his mother Rhonda were left penniless when Timmins abandoned them and moved to the Boston area with local artist Naomi Russell.
Shepherd was struck from behind by a white Dodge Shadow being driven by car wash volunteer Leon Hepleper of Stonebridge at around 1:35 pm. "Poor bastard never even saw it coming," said eyewitness Julie Drake of West Hoover. "I was just about to eat a handful of the free popcorn shrimp they were giving away when I hears this 'ka-doozsh' followed by a loud thump - the guy was blown right out of his flip-flops."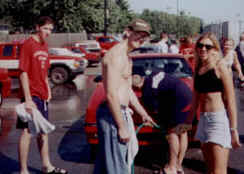 Shepherd is hunched over in blue shirt moments before the accident
Paramedics were on the scene in minutes and took Shepherd to West Hoover Memorial Hospital where he was placed in traction. He suffered a broken leg and wrist and a torn pelvis. A search is underway to locate Hepleper who is thought to be in the vicinity of Canada. West Hoover police chief Craig Trempkin had no comment on rumors regarding the possible involvement of Bob Timmins in the crime.
---
News and Notes
Bob Timmins has been hard at work on his first album, and itís without his longtime backing band The Bob Timmins Band. And apparently Bob is planning some doozy. "Iím putting out a three CD set called PORTRAITS. Itís a concept album, which is something that Iíve always wanted to do. The story is about a boy named Robby, who grows up to be a famous rock star, and it goes into how he deals with the trials and tribulations of fame, like his greedy wife and his jealous bandmates. Iíd be lying if I said it wasnít just a little autobiographical."
Timmins hopes to mount an extensive national tour behind the record. "Iím not gonna half-ass this either," he told Rave On. "Iím gonna pull out all the stops Ė a percussionist, horn section, black choir, explosions, lights, lasers, the whole deal. Itíll be comparable to Pink Floydís THE WALL tour." Timmins hopes to record the album and hit the road immediately after landing a major label recording contract in the next two weeks.
* * * * * * * * * * * * * * * * * * * * * * * * * * * * * * * * * * * * * * * * * * * * * * * * * * * * * * * * * * * *
After a long absence, "toilet rock" is back on the Western Maine scene. A trio out of West Hoover called Turd Burglar have been making quite a bit of noise of late. "Our shows are so fucking outrageous, itís not funny," drummer Tighty Whitey told Rave On. "Going apeshit is our number one priority." With songs like "Pink Piston" and "Two All-Beef Patties, Special Sauce, Lettuce, Cheese, Pickles, Onions and a Sesame Seed Bun (That I Just Wiped My Ass With)", they shouldnít fail to shock and offend audiences Ė which is exactly how they want it. "Man, I just want to make people laugh, make them puke, whatever," singer Toilet Seat added. "Weíre so outrageous!" Look for a debut CD-R from the band CREAMY S*IT SOUP, later this year. The band promises that it will include their "outrageous" covers of the Britney Spears hit "OopsÖ I Did It Again" and the theme from the television program Survivor.
TB's Tighty Whitey
* * * * * * * * * * * * * * * * * * * * * * * * * * * * * * * * * * * * * * * * * * * * * * * * * * * * * * * * * * * * * * * * *
WHHK, "The Hard Rock of Western Maine and More" has changed formats yet again. Re-christened "Lutheran Folk 99.7", the format consists of "popular contemporary and classic Lutheran folk hits from the last fifty years," according to new program director Keith Wailen. "It will fill a void that has been screaming for a station to call their own." This is the fifteenth format change for WHHK in the last six years, which has been known as "Punk 99.7", "Funk 99.7" and "Extreme Classical 99.7" before switching to a hard rock format in March.
---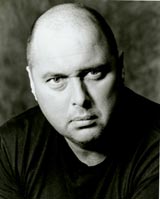 The Maine Event
by
Perry Shepherd
First things first, I want to just let all you faithful readers out there know that old Perry isnít writing this column in my usual manner Ė sitting at my desk with a hot cup of tea and three Drakeís Swiss Rolls. Iím actually in the Crab Lake Memorial Hospital, laid up in bed, dictating it to my old friend Justin Roykerhark (formerly of The Switch). Justin is lending a hand because I got hit by a car at the Dollars For Dylan charity car wash that I organized to help out Rhonda Timmins put cereal and milk on the breakfast table for little Dylan Timmins. To tell you the truth, Iím not sure who or what hit me, but I remembered being loaded into the back of the ambulance wearing flip-flops, shorts, and an old t-shirt. I was also very sudsy at the time. Not that itís an important detail, but Iím just starting to get my memory back and every detail I can come up with helps me piece things back together. [Iím editing out about fifteen minutes of Perry talking about how his back has been bleeding Ė Justin]
One of the things thatís been easing the pain is the Western Maine sceneís ascendance to national prominence, as determined by the folks at THE NATIONAL ROCKER magazine. It seems that our little slice of paradise was ranked #404 on the "Top 500 Scenes Across America" poll. Considering the fact that weíve never made a scratch for the last twelve years, it wonít be long before weíre giving stalwarts like Chicago and Eastern San Antonio a run for their money. Look out, America Ė Western Maine is coming at you!! [Perry just blacked out Ė weíll resume the column when he wakes up Ė Justin]
I guess Iím as hurt as anyone else over the word that a visit from our esteemed colleague from Down Under turned out to be nothing more than a fraud. For the sake of the scene Iíd like to apologize if people think I hyped the manís arrival too strongly before checking out his "manager's" credentials. Itís just that when I heard that Jerry Speiser was heading our way, I got transported back to the day the CD Submarine got in the first shipments of CARGO. Actually back then it was called Platter Puss Ė they had this sign that was shaped like a giant cat. I remember the mayor of Tillsbury actually requested that the sign be changed Ė he felt that the sign could either be neon pink or have the giant cat on it, but couldnít be both. Thatís so funny. I remember a cat I used to have when I was little. His name was Whiskers, but I liked to call him Brad, after Bostonís brash bellower Brad Delp. (Perry faded in and out of consciousness, recalling childhood memories while he got his hospital gown changed Ė Justin]
Oh, where were we? Yeah, Iím sorry about the whole Speiser thing. I canít remember anything like that happening, not since that guy came through town about fifteen years ago claiming to be Todd Rundgren' s father. But since I took the biggest hit from the Speiser con Ė Tud Oglesby stole my car and my rare collection of Hard Rock Cafť memorabilia Ė if I can forgive and forget, anyone else should be able to. You know whatís funny? That each place calls a sandwich something different. Some people call it a "submarine sandwich", others refer to it as a "hoagie", Iíve even heard it called a "grinder". I wonder if we Western Mainers are the only ones to call them "Dudleys"? I doubt it. If you ask me, America wonít be united until we get a standard word for the sandwich figured out. Hey, if we can do it with the hamburger, which was actually called "handburger" by Southerners because it fit into your hand easily and was eaten by picking it up with your hand and bringing it up to your mouth. [I canít keep doing this Ė Justin]