---
Rave On!
Western Maine's Only Rock 'n' Roll Paper
*a Velndoco Publication
---
June, 2000
Aussie Rock Legend To Settle In Western Maine
June 5th Stonebridge, ME
Save-Way might want to stock up on Vegemite, beets and Fosters beer. Western Maine was turned on its ear last week when legendary Men At Work drummer Jerry Speiser came to Stonebridge for a sold out gig at The Borderline Brew Pub. Speiser sent heads reeling when he announced that he and his band The Working Stiffs would be relocating to the Stonebridge area!
"I've been hearing about Western Maine since the Business As Usual tour," said Speiser over popcorn shrimp and fries at The Warf in Marshton. "I could never get the guys to agree to play in this neck of the woods. They only wanted to do the big towns." Speiser's first exposure to the delight's of Western Maine came when he was hit in the face with a Denim Clad Dad demo tape as he was leaving the stage at Mass's Great Woods Amphitheater in 1985. "At first I was mad as a quaka in a snake pit," laughs Speiser. "But then I was blown away by the sounds on the tape. I tried to get those guys on the second leg of the Cargo tour but Colin and Greg wanted that douchebag Patty Smythe. Fuck, I'm getting mad just thinking about it."
Speiser plans to base his group out of Stonebridge with an eye on reestablishing his reputation as a rock drummer par excellence. "I didn't play drums for ages after the break-up. I taught a course on business strategies for a few years. When I grew tired of that I knew it was time to put on my sweatbands and muscle shirt and get back behind my kit. I kept hearing how Men At Work were still massive in the States so I thought, 'why not give it a go?' Why not in rock and roll central -Western Maine?"
Speiser and The Working Stiffs have a new CD out called "Who Can It Be Down Under?" It's available at Record Rob's in Marshton, The CD Submarine in Stonebridge and Golden Memories in Shiptown. The band's tour dates are as follows:
June 6 Stonebridge ME Borderline Brew Pub
June 7 West Bedford ME Chowder Town
June 8 Bentonton ME Spanky's
June 9 West Hoover ME Venue to be announced
(*This will be the culmination of West Hoover's Jerry Speiser Day Celebration)
June 10 Stonebridge ME Borderline Brew Pub
---
News and Notes
Whoís that punk band thatís been making an unholy racket at places like VW Hall 32 and Weaverís? Itís none other than Western Maineís own THE TROUBLEMAKERS. Never heard of them? Not surprising, but youíve no doubt known these guys through many of Western Maineís progressive rock bands. Lead singer and guitarist Charlie Walsh (Prism, Through the Door Boldly) stated that, "punk is a new and exciting music thatís fun to play. Itís a real kick! Mike (Mike Nancee, drummer for Leonine Masque) lent me a tape of some punk tunes. He thought that maybe we could re-interpret a couple of the songs in a prog-rock style, but I really got excited by the sounds that I heard." Walsh and Nancee brought in fellow artisans Claude Roman (Serpent, Revelation) and David Simmonds (Trident, Revelation [not the same Revelation as Claudeís]) and The Troublemakers were born. "The music is fun to play. It really lets me shut my mind off", Nancee stated. "Hopefully we can organize some sort of punk festival like the ProgFest that we hold at Chamberlain Lake every year"
Troublemaker's bassist David Simmonds
---
The confusion over the announcement that CSNY will be playing an acoustic concert at Rayís Clam Palace has been cleared up. The show has been re-listed as Clark, Saltzman, Newlinberger and Yud. "We honestly never gave a thought to the fact that our initials were the same as theirs," Gar Newlinberger says. "Unfortunately the management at Rayís has a no-refund policy about advance ticket sales. Thatís completely out of our hands." "Itís not like people are going to be short-changed by our fucking act," Roderick Saltzman added. "Horace (Clark) and Tab (Yud) have been working their fucking sacks off to make this band work." Saltzman also stated that the original CSNY "take it up the ass" compared to their own mixture of rock and light acoustic funk.
Roderick Saltzman
---
The West Hoover Palladium for the Finer Arts will hopefully be reconstructed soon, town authorities announced. The concert hall was burned to the ground in an electrical fire last month. For now the West Hoover Players have been moved to West Hoover Middle School, and the West Hoover All-Star Country Jamboree Party has been discontinued indefinitely.
---
West Binghamton clubgoers were treated to a prima donna act not seen around these parts since Graham Nash's 1987 performance at Sutter's Saloon, when Bob Timmins Band frontman Bob Timmins walked offstage in the middle of the band's third set at Stoney's in West Binghamton last Thursday...and didn't return. Word is that ever since Timmins and Co. received best band honors from Rave On readers, its leader has been, in the words of one anonymous source, "walking around like he's God's gift to Western Maine." Timmins' life seems to have been thrown into disarray soon after the award was announced. "Bob really thinks it's going to be all limos and blow-jobs from here on out," says another source close to the band. "He split from Rhonda (Timmins' wife of 18 years -they have a 6-year old son, Dylan), shaved his beard, got tinted contacts, bought a convertible , painted the words "Onwards and Upwards" on it, and has generally been a complete dick-shine to just about everybody in Western Maine."
BTB circa Dec '99. Pettigrew is third from left. Timmins is at far right.
Timmins apparently was displeased with the performance of longtime BTB drummer Stan Pettigrew during the group's rendition of "Mustang Sally." "Bob just turned around, kicked Stan's bass drum over, unplugged his guitar and walked offstage and out the door with Naomi (Russell, West Hoover artist and playwright and Timmins' new love interest)," said an eyewitness. The band, sans Timmins, completed the set but cancelled the next evening's performance at The Borderline Brewpub. Timmins was unavailable to comment on the rumor that he will be teaming up with new Western Maine resident Jerry Speiser.
---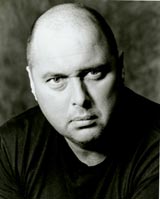 The Maine Event
by
Perry Shepherd
First things first Ė let me take this opportunity to welcome the very esteemed Mr Jerry Speiser to our humble neck of the woods. I think itís exciting to have an artist of the magnitude of Mr Speiser coming our way Ė it really gives the scene the shot in the ass that its needed lately. What with a few of the ugly incidents that have surrounded the scene, itís a breath of fresh air to have a man with class and dignity arrive on the scene. Memo to Bob Timmins Ė you could take a few lessons from Mr. Speiser in the "handling fame" department. No offense, Bob, but you havenít achieved one half of what Jerry has accomplished in his life, and heís handling his massive fame just fine. Like I always say, take a page from someone whoís gone before you and succeeded. And if Jerry Speiser hasnít succeeded in the music industry, than I guess nobody has.
The other incident that has given our fair scene a black eye of late involves Dan Muchampico, the bassist and backup singer for local pop/rock act Cherry Tree. From what I heard, Dan was arrested for aggravated phone harassment of something like twelve people. Apparently he kept calling people to talk dirty to them, saying some pretty unspeakable things. Now a friend of mine works on the force and actually saw transcripts of what Dan was (allegedly) saying to these people, and itís sick stuff. On one call he told this man he was "whipping his pole to the terror in your voice" and told the guy that he wanted to "whitewall his moustache", whatever that means. Danís in jail right now, and apparently Cherry Tree are on indefinite hiatus and their track from the upcoming WHHT compilation CD has been removed. My two cents? Iíve always felt that people should do whatever it takes to get them off, but not if it involves hurting or harassing innocent people.
I was also horrified to hear that the Vermont music paper THE VERMONT ELECTRIC GUITAR was sending one of their "writers" up our way to attempt yet another hatchet job on our scene. Nice try, fellas, but take your act somewhere else. Or better yet, why donít you try and get your own scene going yourselves? Oh no, it would be so much easier to rip apart a scene thatís close by and seems to be doing everything right while your scene sinks into the quagmire that is Vermont. Jealous much, guys? Instead of coming up to Western Maine and trying to rip us apart, hereís an idea Ė come on up, bring a pad and some paper, and make notes on how you can duplicate our success in your neck of the woods. Look, the main thing is the music Ė Iíd like nothing more than to see each and every town have a booming music scene comparable to ours. Even a cesspool like Vermont.
On a final note, Iím proud as punch to announce that Iíll be hosting a charity pancake breakfast and car wash over at the Chowder Hut next week, The money goes to a great cause, so I think you should all come out and support it.
Until next time, feel the beat!
Perry