---
Rave On!
Western Maine's Only Rock 'n' Roll Paper
*a Velndoco Publication
---
May, 2000
Rave On readers poll results are in!
Bob Timmins Band reigns. Top Flight on wane.
In a surprise upset, Rave On readers have voted The Bob Timmins Band western Maine's premier musical group. "I'm on top of the world," remarked a jubilant Timmins speaking from behind the counter at Strings & Things music store in Stonebridge. "All the work Stan, Rog, Earl, Ted and I have put in finally paid off."
What makes this first place showing so remarkable is that although formed in the mid-80's --TBTB had been relatively inactive for the past ten years. The band, known for its letter-perfect renditions of classic Stones, CCR, Beatles and Clapton numbers as well as originals like "Mary Lou" and "I've Got Your Love," reformed in early 1999 and quickly shot to the top of the western Maine music scene.
"I hated breaking up the band in '89," Timmins said. "We did really well for years: we toured all over Maine and even made it into Vermont a couple times. Stan was having trouble at home and I was unable to keep up with the needs of my guitar students. The road, man, it's way harder than it looks."
What, then, was the impetus for reforming TBTB after so many years? "I ran into Earl and Ted at Spanky's in Bentonton in December of '98 and we just got to talking," he says. "We realized we needed to rock and roll again. Simple as that." But, one member was a little harder to convince. "Stan was still married to Rhonda, and she was --how can I put this delicately --not so enthusiastic about the group's reformation. She was actually dead against it," says Timmins. "Turns out this was the final straw for ol' Stan. He told her to suck it. Imagine that -after 15 years- he just says, 'Later on, I'm gone'. He's my hero."
While the band's intense touring schedule (they once played three shows in one day: the opening of the Greerson Shop-Rite in the morning, a wedding in West Bedford in the afternoon, and a three-hour set at The Borderline Brew Pub later that night) garnered them many fans in '99, there is no doubt in Timmins' mind just what event won them the RO readers poll: "We just killed when we played with Steppenwolf last fall at the Maple Frolic," Timmins crows. "People were losing their shit when we launched into 'Layla,' and they were ours by the time we finished 'Maggie May.' It 's kind of like when Hendrix played at Monterey and was launched into superstardom. I feel like it's our time now."
This feeling of elation is not being felt by the members of Top Flight (above). The band that so ruled western Maine just two years ago has recently watched its star fade. The group placed sixth in this year's poll, coming in behind TBTB, Zenith, Blues For Hire, Paul Clemmons and The Upshot, and Whirled Peas. "I don't know what to say," confides TF bassist and singer Ronny Johnston. "Things are not going well for us, it seems like western Maine is just down on show bands. I think it's time to retool." Top Fight was the hands-down winner in the RO readers poll only two years ago.
---
NEWS AND NOTES
Local cover band THE MAMAS AND PAPPAS are currently being sued by the oldies act the Mamas and Papas. The West Hoover quartet has been ordered to cease using the band name immediately, or face the threat of a major lawsuit. "This lawsuit is completely without merit," notes Georgio Pappas, the bandís founder. "Nobody could possibly confuse us with them. We only do, like, four of their tunes in our act anyway". Georgio notes that he came up with the name when he met the Hale sisters, Anne and Sugar, four years ago. "Those two can sing circles around pretty much anyone, including Mama Cass and Michelle Phillips". Pappas has mentioned that he would be interested in challenging the Mamas and Papas to a battle of the bands to settle the name dispute.
---
One of the most exciting performers on the western Maine scene today is the ALBAR ALBABLAR DUO, a band comprised of Albar Albablar Senior and his son Albar Albablar Junior. They relocated to the area from their native Turkey seven months ago. "I heard so much about the western Maine music scene in my homeland, but I have to say that it is even better than I had imagined it could have been. Itís a blessing to be here!" The band combines the light classic rock sound of the Eagles and CSNY with traditional Turkish music.
Yet the band is torn by a strange dynamic Ė Albar Albablar Junior is interested in adding a speed-metal flavor to the bandís sound, but his father is not interested. "This wimpy shit doesnít cut it anymore. I want to add a dash of Entombed or Sarcophagus, but my dad isnít biting. Whatever."
---
The West Hoover Palladium for the Finer Arts burned to the ground after a performance by folk act the TRAINJUMPERS. An investigation is pending, but to date no members of the band have been indicted.
---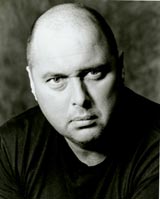 The Maine Event
by
Perry Shepherd
Editor
Before I get started, let me just say that thereís no way in hell that any band with a sense of decency and self-respect should ever play ChowderTown again. If youíre looking for a bite to eat, itís a good enough place, sure, but when it comes to catching a show there, forget it. First of all, you can barely see the stage from most of the seats in the room due to all the fish netting hanging off the walls. Secondly the staff security consists of one guy named Don who is as big a jerk as there has ever been. Maybe he doesnít know who I am or know the column Ė doubtful Ė but he should show more respect to audience members who want to slip backstage and say Ďhií to the bands. And finally the sound system stinks. When I tried to catch a few of my fave acts a couple weeks ago Ė THE BOB TIMMINS BAND, FAT TUESDAY and BOURBON STREET Ė the sound was so muddy that you couldnít tell the singing from the drumming. And the bass was so loud that the walls actually shook Ė loosening a wooden lobster trap mounted to the wall and crashing it near my head. Nice move guys, see if youíll ever get my concert dollar again. Not likely.
Look out below! The legendary English band THE CATHERINE WHEEL will be bringing their act to our neck of the woods. Theyíll be playing at The West Hoover Palladium for the Finer Arts next month, with locals MISTER PIGGY opening. It should be an awesome evening Ė I canít wait!!
Speaking of Mister Piggy, Del Hasselbrink, formerly of Mister Piggy, has released a new cassette of demos. Itís called "Four Track Mind", and contains a lot of the new stuff that Hasselbrink has been working on over the last five years. Die-hard fans of early Mister Piggy will note an "unplugged" version of "Thereís No Turning Back Now" and a new winner called "Canít Stop Rock And Roll". Hasselbrink is hoping to get these songs to record labels in New York and Los Angeles, with the hope of landing a recording contract.
MOJO CHILD are considering making the move to New Hampshire. I know Iíve stated before that I shouldnít and wouldnít editorialize about bandsí futures here, but Iím gonna break my promise. Guys, I donít think you should do it. Not yet, at least. Youíve been together for what, four years? Thatís nothing in the world of music! Your chops are awesome, sure, but remember that youíre taking a chance by going to NH. Not that this is gonna happen to you guys, but Iíve seen my share of bands leave Maine for the big time of New Hampshire or Vermont (can you say Pop A Wheelie?), only to come back to Maine with their tails between their legs. So take my advice Ė stay here in Maine. Youíll be better off for it, and youíll thank me later.
Until next time, keep the rock side rock and the cool side cold!