---
Rave On!
Western Maine's Only Rock 'n' Roll Paper
*a Velndoco Publication
---
January/February, 2001
Western Maine Named 'Bass Capital of America'
Van Halen's Anthony Slated To Headline Massive 'Night Of Thunder' Concert Set For March 3rd
Michael Anthony
It was announced February 1st that--after many weeks of behind-the-scenes wrangling between Western Maine Commissioner Claude Velndonom and the board of directors of Bass Summit magazine--Western Maine has been unofficially named "Bass Capital of America."
Velndonom also declared March 3rd as Official Western Maine Bass Day, then dropped a bomb the likes of which has not been heard in these parts since the Eat-All Seafood factory explosion of 1974: 'The Night of Thunder' concert, featuring an all-star bass guitar jam featuring Van Halen's Michael Anthony, Quiet Riot's Rudy Sarzo, Benjamin Hiatt (The Fixx), Fred 'The Man' Mandlebar (Brittany Fox), Kenny Bartholomew (Dokken), Garth Nottingham (Delbert McClinton, Bonnie Tyler) and Josh Sandoval (Ted Nugent's Wild Kingdom), among others.
'Massive Ticket Demand Causes Panic'
Tickets for the event--scheduled to take place at the 2,000 person capacity New West Hoover Palladium For The Performing Arts--went on sale February 10th at 10:00 am and sold out in 3.4 minutes. Bentonton-based promoter Mitch Platnor announced later that day that the show would be moved to Ye Olde Shiptown Conference Centre, but plans for that performance had to be scuttled when all 10,002 tickets sold out in an hour and a near-deadly riot ensued.
After an emergency meeting of the Western Maine Board of Public Safety and Nautical Affairs (headed by Velndonom), it was decided that the 'Night of Thunder' concert would be held at its now official and final location: The Crab Lake Falls County Fairgrounds in the town of Crab. Promoter Platnor said he anticipates the turnout to be ''in the area of 30,000 bass guitar fanatics from all over the US of bAss.'
---
Local Hard Rockers Protest Velndonom's Anti-Metallic Rock Stance. Commissioner Forms Panel
Hundreds of local hard rock musicians and fans protested outside the Western Maine County Commissioner's Mansion February 2, decrying Commissioner Velndonom's "moratorium on hard metallic rock." Protest organizer Lor Borton, lead guitarist of the West Hoover-based Sizter Jigzaw, stated through a bullhorn that Commissioner Velndonom "don't even know what he's talkin' about . He's just mad 'cause his girlfriend took a drink from the pant faucet of the lead guitarist from Heathen in December."

Todd Delongpre
Todd Delongpre, host of 88.1 FM's Metal Mayhem 1/2 Hour, Western Maine Community College's weekly radio program, observed, "The Commissioner bans our music, then turns around and organizes a huge concert featuring a large number of hard rock/metal bassists. It doesn't add up." Delongpre went on to question Velndonom's criteria for deciding the difference between "hard rock" and "hard metallic rock." "I was told by one of Velndonom's assistants that I could no longer play records by Slaughter, Raven, Cannibal Corpse, Jackyl and Flotsam and Jetsam, among others. I was then told it was ok to play other groups including Motorhead, Trixter, Exodus and The Mentors. Now, both those lists contain bands which play hard and metallic rock. The only thing that separates the bands on each list is that every band on list A contains a member that resembles Heathen lead guitarist Glenn Goddard."
Commissioner Velndonom has established a panel comprised of members of the Western Maine legislature to render a ruling regarding the distinction between hard rock, metal, and hard metallic rock.
---
Bob Timmins Trial To Start March 1st
One-time Western Maine rock and roll hopeful Bob Timmins' trail has been set for March 1st at the West Hoover Community Court House. In November Timmins drove his car into Crab Lake in an attempt to fake his own death and left a note implicating Rave On editor Perry Shepherd as his killer. Timmins faces a possibility of 30 years in prison for the frame-up, submerging an automobile in Crab Lake, aquamarine endangerment and swimming without proper attire. The trial will be presided over the honorable Samson T Hopkitter.
Judge Hopkitter as he looked in 1952
Judge Hopkitter was in the news back in November when it was revealed that he was clinically dead for a period of 2 days. Hopkitter appeared to have passed on due to complications resulting from laser-surgery but regained consciousness while en route to Bentonton where he was scheduled for embalming. At 105, Hopkitter, playfully known as "the Zapper," is the oldest active judge in America.
Rave On Exclusive!!
Read Bob Timmins' Jailhouse Diary

---
Lighthouse Movie Soundtrack Features Many Of Western Maine's Finest
Local rock and roll fans will be ecstatic to learn that the soundtrack to the locally filmed and produced film Lighthouse will include 13 tracks from local Western Maine musicians and not more established nationally-known artists as was originally reported.
"I can't believe we're actually going to be on the soundtrack to a nationally distributed movie," exclaimed Jared Morton, keyboardist for West Hoover's Neckbone. "Imagine, going from playing two nights a month at the Brew Pub to getting on the soundtrack to a movie with Ben Gazzarra in it --I'm floating on air."

Lighthouse soundtrack coordinator Neil Zucker
Original plans for the soundtrack to feature the likes of noted rockers Aerosmith, Bryan Adams, Motley Crue and John Mellencamp were scrapped in late December. Neil Zucker, project coordinator for Hollywoodland Records, stated via his cell phone last week that "you wouldn't believe how much money those guys wanted to record a song for this project, we decided it would be much more....workable...to get some of that great Western Maine talent on board." Zucker went on to rave about the project but had to cut short our interview in order to appear in a Los Angeles court to plead guilty to drunk driving charges.
Here is the track listing for the Lighthouse soundtrack:
1. Lighthouse Nights (You Make Me Come Alive!) - The Bob Timmins Band (featuring Ronny Johnston)
2. Cool Coastal Casanova - The Albablar, Edmunds and Yud Spaceship
3. She's Like The Sea - Blues For Hire
4. Love Theme From Lighthouse - Mammas and Pappas
5. Rumble At The Dock -The Troublemakers
6. Fishing (For Love) -Neckbone
7. Dancing On Water -Fat Tuesday
8. (Grab A Hold Of) My Dingy -The Trainjumpers
9. Ocean Motion Potion -Rod Gertling Xpress
10. Mandy's Love Dance (Inst.) -Bern Dorn Band
11. Sexy Swimmer -Custody
12. Want It Bad (The Heat) -Top Flight
13. Bad To The Bone -Perry Shepherd And The Perryscopes
---
NEWS AND NOTES
---
LIGHTHOUSE RECEIVES "X" RATING FROM MPAA BOARD
The producers of the upcoming Western Maine mega-flick Lighthouse received surprising news when the MPAA board gave an initial edit of the film an "X" rating. While the seven-member board usually refrains from making public comments regarding their reasons for their decisions, they apparently made an exception for Lighthouse. Board member Jonathan Gigomoluminomo declared the film was "nothing more than a glorified porno movie. Lighthouse contains 23 full-length sex scenes between its star (Mandy Lynn) and a variety of young men. There's even a few shots of actual hardcore intercourse."

Mandy Lynn
When asked if Lighthouse had any redeeming features, Gigomoluminomo replied, "The only element of the movie that stands completely free of pornographic elements is the plotline following a bald guy pretending to be blind. He's supposedly a musician and uses his guitar as a cane at one point. I know we're not supposed to make our rulings based on things like acting ability, but I would've given this movie an "X" rating for his performance alone, if only to make it less available for the general public." Nevertheless, Lighthouse should be opening in the early spring. Director/actor/producer/writer Mandy Lynn was post-producing the film and was unavailable for comment.
---
PAPPAS STRIKES BACK
Local musician Georgio Pappas, no stranger to controversy, has launched a new musical act that he promises "will revolutionize music as we know it."
The band is called THE STAR WARS BEATLES. Pappas describes the group thusly: The band members are characters we all know and love, like Luke Skywalker, Han Solo, Darth Vader, John Lennon and Chewbacca.
Pappas
They play the classic Beatles songs we all grew up on, but between tunes they'll act out a scene or two from the Star Wars flicks. You've got to see it! Everybody's got to see it!" The band will make its debut performance at the West Hoover Convention Center. When asked if he anticipates lawsuits from either George Lucas or the Fab Four, Pappas remains defiant. "Let em come after me. They shut me down, I'll be back. Fuck them all!"
---
ALBABLAR DUO SPLITS, BAD BLOOD ABOUND
One of the area's leading acts has called it a day, and the battle has just begun. The Albar Albablar Duo, which consisted of Albar Alablar's Sr. and Jr., have split up, citing "musical and extreme personal differences". Word from insiders is that Albar Jr. was tremendously upset that his father recorded a song for the upcoming Lighthouse soundtrack with two other local musicians: Rodney Edmunds (Groove Patrol) and Tab Yud (formerly of the ill-fated CSNY).
Albablar Sr.
Albablar Sr. added insult to injury when he announced that he was in fact forming a new band with the two rockers called The Albablar, Edmunds and Yud Spaceship. "We kick ass royally. We'll blow away any band that steps forward, any time or place. Including Poisoned Priest."
Incidentally, death metal act Poisoned Priest now feature new lead guitarist Albar Albablar, Jr., who now performs under the name Shred Cooger. Incidentally, the breakup of the Albar Albablar Duo places the release of their debut CD-R in jeopardy.
---
FORMER WRESTLER LAUNCHES MUSIC CAREER
Former WMWL superstar Duncan Fuchs (best known to wrestling fans as Captain Toilet) has settled upon a career in music now that his wrestling days are behind him. "Yeah, music has always been what I'm all about. And now I'll have a chance to show everybody my softer side," Fuchs declared. "Wrestling was fun, but those days are gone. I'm not gonna be one of those guys who doesn't know when to quit. The past is the past, and I live in the future." Fuchs's band is called "The Captain and his Pack of Wild Dogs", and their music is described by manager Dusty Fleen as "a real punch in the nuts. Hard-ass tough guy rock. Testosterone on CD. Definitely not for pussies."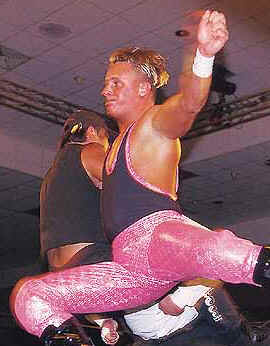 Fleen says that the band's live show will contain "plenty of elements that'll keep the Captain's hardcore fans drooling all over themselves. It's gonna rip it up, trust me!" Fleen also promised that there'd be "plenty of bloodshed and chairs smashed over heads."
---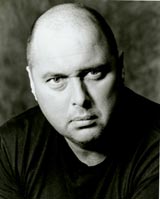 THE MAINE EVENT
by
Perry Shepherd
Editor
Hello everybody! Can you feel it in the air? Can you? 'What are you talking about, Perry?', you're most likely asking. Well, I'm talking about the feeling of excitement regarding our fantastic local scene up here in Western Maine! The whole area is abuzz at all of the initial reports pouring in from the set of the motion picture Lighthouse. Now as you may remember, yours truly was considering taking one of the feature parts in the movie – the part played by Jeff Healy in the movie Roadhouse, on which Lighthouse is based. Well you'll be glad to hear that I put my name on the dotted line and did it! That's right, Perry is well on his way to conquering yet another medium (I've already done writing and rocking, thank you very much…)
What was it like acting in a movie? Well, initially I was hesitant about lending my name and likeness to something that I wouldn't have 100 percent control over. But I figured that since music is my true passion, I should just go with the flow and let the chips fall wherever they may. But you know old Perry – that's just not my style! So I wrote up some back story for my character – as you know I play a blind guitar player named Clark who leads the house band at Lighthouse Nights, the big club in the movie. Personally I felt that Clark's part was horrifically underwritten – we don't know squat about what makes him tick! So I knocked out about fifty pages of script that explains, among other things, how Clark became blind in the first place (no, he wasn't born that way – actually he was working as a security guard at a bank in West Hoover when a robbery took place. When one of the gunmen pointed a gun at the head of an infant, Clark had seen enough. Armed with only a nightstick, Clark heroically saved the child's life and thwarted all eight of the robbers single-handedly. Unfortunately during a struggle, a gun went off near his eyes, thus blinding him forever.) Unfortunately they weren't able to film pretty much any of what I wrote due to budget and location restrictions. What a shame - I personally feel those scenes would've lifted the movie more towards the level of fine cinema. But right now it's a good flick to check out and have fun with – what's known in the industry as a "popcorn flick"; the kind of movie that you can party with.
I'm also a little bummed about my lack of presence on the soundtrack. I went into this thinking that Perry Shepherd and the PerryScopes would be performing every note of music heard in the movie, but that didn't turn out to be the case. We've only got one song on the upcoming soundtrack! As much as I would've loved to play all of the rock stuff, I was looking forward to the challenge of scoring the film. I think that would've been a big breakthrough for me on a sheer artistic level, the kind of thing that gets you nominated for awards. Say la ve…
You might be wondering where the 10 Questions with Perry column has gone. Fear not – it has only vanished this one time out. You'll get to hear Perry conduct an interview like only he can in the very near future. But this time out I decided to give the space over to the infamous Bob Timmins, who is rotting in the West Prawn County Jail cell right now. I've already weighed in about Bob's current situation (see above) – but I feel the man should at least have a means of communicating to the public. If he is found guilty and put to death, I shan't shed a single tear. In my eyes, the law will have spoken and we have to go along with whatever the Honorable [judge's name] decides. We should all abide by his ruling.
On an unrelated note, the PerryScopes have undergone some more personnel changes. Guitarist Mike Jeffries is long gone, replaced by ace six-string hotshot B. Lane Coolper (formerly of the B. Lane Coolper and Dusty Kloff Band), bassist Randall Wycoff is also yesterday's news. Now the PerryScopes are proud to feature low-end thumper Geordie Vingh-Simmons (who used to play in All Y'all and Handgun), and new drummer Mickey Turpelton (ex-KGBJ, Barking Fish) takes the place of Benjie Cranston.
Now a lot of people might wonder why the PerryScopes have been so unstable over the last few months. I'm just trying to get the perfect mixture in place. And I'm not about to let raging egos derail what can be a very special band. We have a rule when he gig or rehearse – "check your egos at the door". That's just how it is. And the old crew couldn't stick to that. Hopefully these new guys can. If they can't, well, they'll be shown the door just like the previous two lineups were.
That's all for now!
feel the beat,
Perry
---