---
Rave On!
Western Maine's Only Rock 'n' Roll Paper
*a Velndoco Publication
---
November/December, 2000
Velndonom Wins Commissioner Post, Throws Rock Extravaganza
Newly-elected Western Maine Commissioner Claude Y. Velndonom sure knows how to throw a victory party. And party thousands did at the all-day "Appreciation For The People of Western Maine Festival" on December 2nd at the Velndonom Amphitheater in Stonebridge.
At approximately 12:07 PM the multi-billionaire and his on-again/off-again fiancť Mandy Lynn (dressed in form-fitting dancewear and high heels) strode to center stage to the sounds of Tom Petty's "It's Good To Be King," greeted the crowd, and proceeded to kiss passionately and open-mouthed. Claude then sang a spirited version of Western Maine's official anthem, "The Crabs of My Youth" and introduced the first act of the day: his favorite singing group, Memory Lane.
Commissioner Velndonom introduces Memory Lane
As Memory Lane finished the final chorus of "Lazing By The Lighthouse," Commissioner Velndonom reappeared once again to thank the crowd. He announced that he was off to meet with prospective cabinet members and that Mandy Lynn would take over as host. Velndonom also mentioned that the rest of the day's entertainment, featuring hard rocking locals Heathen, Jupiter Starfight and Trashed Gypsy, as well as national supergroup Claude's Klan (the band was specifically assembled for the show and consisted of vocalist Ron Keel, Judas Priest guitarist K.K. Downing, Great White bassist Todd Gorth and Dokken drummer 'Wild' Mick Brown) was handpicked by Ms. Lynn.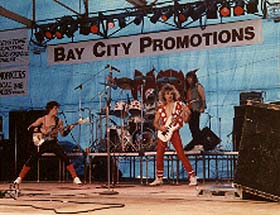 Heathen perform their song "Wett Cherrry"
Ms. Lynn was clearly loving every minute of her time onstage dancing, grinding, and carrying on with all the male members of the groups who played throughout the day and evening. Our new first lady and the thousands of celebrators were having a grand old time.
Mandy Lynn
But things were far different outside the venue where hundreds of West Hoover voters picketed the festivities. In a scene straight out of our national newspapers, the voters claimed they were confused by what they saw when they entered their voting booths. But whereas Florida voters cited the precarious positioning of candidate's names as their main grievance, these anti-Velndonomers say they were not even given the option of voting for other candidates.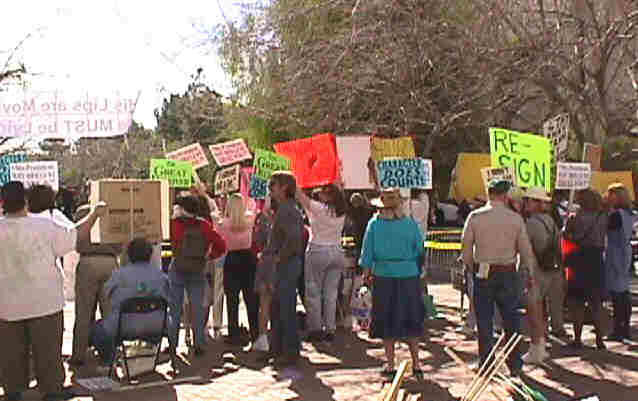 The protestors hurled taunts and spoiled lobster meat at Commissioner Velndonom's 80-foot limousine shouting "Claude fraud" and "Velndonom sucks pant cashews" as the vehicle sped past them, narrowly missing a 10-year-old boy and his sick mother. The Commissioner called the allegations of voter fraud "completely out-there...weird," and cited the fact that all West Hoover voting booths were "cleaned and prepped" by Western Maine's oldest and only voting booth maintenance company: Velndovote Inc. Velndovote CEO Roderick Z. Velndonom could not be interviewed due to vacation commitments but did state that a recount would be impossible due to his observance of the "time- honored American tradition of torching the ballots after they are counted."
The ballot bonfire
The festival ended at approximately 11:00 pm with a rousing sing-along of The Lobstermen's 1958 regional smash "Rockin' At The Dock (All Around The Clock)" which featured all of the day's participants with the exception of Mandy Lynn and Heathen guitarist Glenn Goodard.
---
Bob Timmins Arrested For Attempted Frame-Up of Rave On Editor and for Faking Own Death
Bob Timmins' luck seems to have gone from bad to worse. The rotund Western Maine singer was arrested on November 30th for faking his own death and attempting to frame Rave On editor Perry Shepherd as his murderer. At approximately 5:00 pm members of the Crab Lake High School fishing squad were alerted to the sound of screams coming from the north end of the lake. They were shocked to see Timmins thirty feet from shore struggling desperately to keep his head above water.
Team ensign Royce Gerntnsted was first to reach the frightened waterlogged musician. "He was really out of control when I reached him," Gerntnsted said. "He vacillated between expressing overwhelming gratitude that I was saving him and cursing God for giving him too much talent and saying he wished it was someone named Perry in the lake instead of him."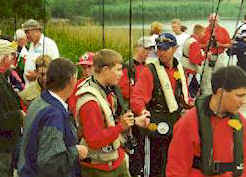 Gerntnsted is pictured at last year's Junior Masters Tournament in Bentonton
Police were soon called and an investigation squad led by State Trooper Robert Harrops of the Stonebridge barracks began their interrogation of Timmins. Questioning revealed that Timmins had planned on submerging his 1989 Toyota Camry in Crab Lake, drafting a murder note "signed" by Rave On editor Perry Shepherd and disappearing into the Western Maine night with hopes of crossing over into Canada.
Timmins succeeded in rolling the vehicle into the lake but seconds later realized he left all his supplies for his journey in the back seat. The portly songsmith then managed to gain access to the car but was rendered helpless when his Bob Seger belt buckle became lodged in the Camry's ashtray. Trooper Harrops speculated that Timmins "would surely have become crab candy" had he not been rescued by Gerntnsted.
Timmins is being held on $400,000 bail in West Hoover County Courthouse.
---
Commissioner Velndonom and Fiancť Found 'Velndonom Movie Company'
Will Western Maine become the next Hollywood? It sure will if our new Commissioner Claude Y. Velndonom has any say in the matter. Velndonom and his sometime fiancť Mandy Lynn have founded the Velndonom Movie Company.
Velndonom stated that the recent pull-out of the Lethal Deception 2 production was the impetus for his decision to start the new studio. "That was really the straw that broke the lobster's back - we were so close to getting on the map with that one," Velndonom said.
The Commissioner has announced that VMC's first production will be Lighthouse, an updating of Mandy Lynn's all-time favorite film: the 1987 Patrick Swayze film Roadhouse.
"Mandy is so excited about this," said Velndonom. "She really loves that movie and she is really proud of the script she has written with Jeff (Klausen -author of Western Main's biggest stage hit Jordan's Spectacular Coat of Dreams)." Ms. Lynn will also co-star and co-direct the film. "She's never really directed before but she's been to enough movies to really get a feel for the medium...plus she takes wonderful photos," gushed Velndonom.
Lighthouse will be shot entirely on location in and around Western Maine with most of the action revolving around "Lighthouse Nights" -a rough-and-tumble drinkery which will be played by the Crab Lake Canyon Falls Lighthouse.
Velndonom related how disappointed he was that Mr. Swayze would not be returning to the role of Dalton, the rugged yet gorgeous bouncer in the original film. "Mandy was really upset when she heard Patrick declined the film, but she sure perked up when she met her new co-star Gareth Porter," Velndonom said. "They have been rehearsing non-stop recently -I hardly ever see Mandy anymore!"
Lighthouse co-star Gareth Porter
Velndonom was pleased to announce that two stars of the original movie would be returning: legendary actor Ben Gazzarra and legendary wrestler Terry Funk. "Who would imagine it -me, just a regular ol' billionaire getting to talk craft with these two giants!" enthused Velndonom. "I can't wait for Mandy to make the camera start shooting film."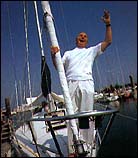 Gazzarra enjoys himself during his visit to Western Maine last summer
Velndonom would not respond to allegations that money to make the film was coming not from his personal fortune but a just announced massive water rate hike. "Let's not worry about money, let's be concerned with creating great luscious art," said Velndonom.
---
NEWS AND NOTES
---
WATER SCARE MAKES ĎHARD METALLIC ROCKí RARE IN WESTERN MAINE
Local bands have been scrambling to change their musical sound, following the announcement from Commissioner Elect Claude Velndonom that bands playing "hard metallic rock" will face dire consequences if they continue to do so.
"It sucks, but hey, Iím not gonna let him shut off my momís water," drummer Leon Thompterlane of the band Jaggid Nife stated. "Weíre gonna cool out for awhile, play things more like the Eagles or something."
Tiger Stripe
Other bands have not been so easy to adapt Ė Tiger Stripe, a four-piece from the newly-formed town of Southwest Hoover, refuse to hand over what they consider to be their right to rock however they see fit. "That bald prick Velndonom can suck it long and hard, all night long, if he thinks weíre gonna give up our rock," lead singer Killy Whopp declared. "The day we stop playing "Mama Likes It Up There" is the day we all die Ė water or no water." Whopp did state that the water of his grandparents was indeed shut off two days later.
---
TURD BURGLAR CALL IT A DAY
Local shock-rockers Turd Burglar announced they will be disbanding come the middle of February, when the parents of Tighty Whitey, the bandís singer revealed they will be moving to the Phoenix area for job-related reasons. "It sucks, man. We were really making some headway," Tighty Whitey said. "Our latest song "Paint a Picasso in Your Underwear" was our best ever. The last time we played it, this one guy in the audience nearly puked. I couldnít believe it."
Tighty Whitey

When asked why Tighty Whitey, at 22 years old, would be relocating with his parents instead of possibly starting his own life on his own, he merely stated, "What, and go get a job and pay rent on my own? Fuck that."
---
OPEN CALL FOR "LIGHTHOUSE" EXTRAS
The motion picture Lighthouse, currently in pre-production throughout Western Maine, has announced an open call for extras. "Weíre looking for some real dirtbags. You know, fat guys, dumb-looking tattoos that they regret getting, stupid loser biker-gang types. Bad facial hair, the whole deal," casting director Wayne Leonard said.
The open call will be held at the Shallow Shark Park on Saturday December 16 between 9 and 4. Beer and popcorn shrimp will be provided by the production for all auditioners.
---
NEW BEACH BOYS ACT BRINGS ON LAWSUITS GALORE
By now the public knows all too well about the battle between Mike Love and Al Jardine, who are both touring with their own versions of "The Beach Boys" and are suing and counter suing one another over the legal right to the name.
Joining the fray is a new group called "The Original Beach Boys featuring Brian W." who have been touring throughout the Western Maine area over the last few months and plan on taking their act national next year. The band was formed by Georgio Pappas, the man behind the infamous "Mamas and Pappas" band. (Pappas was successfully sued for $8.2 million dollars by the Mamas and Papas in September. An appeal is pending.)
Pappas
"The Original Beach Boys featuring Brian W." have been hit by a barrage of lawsuits. The suits are wide-ranging, including a class action brought by "Fans of the Beach Boys", who feel the group "grossly mis-represents itself and its membership." One sticking point is apparently the "featuring Brian W." portion of the group name Ė Brian Wilson is not touring or involved with the group, and there is nobody in the band named Brian for that matter.
"I started this group as an olive branch," Pappas wholeheartedly declared. "Jardine and Love are ruining the name of the Beach Boys. This group is my way of trying to bring all parties together." Pappas would not explain his intentions further.
---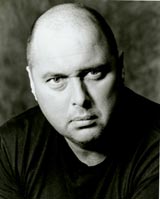 THE MAINE EVENT
by
Perry Shepherd
Editor
Hello gang. Perryís back for another episode of THE MAINE EVENT, the only place where youíre GUARANTEED to get the truth, the whole truth and nothing but the truth, each and every time out of the crab cage! So letís get started, shall we?
Thereís been a big buzz all over the Western Maine music scene, and itís been aboutÖ none other than yours truly! People have really been flipping for my band big-time! (and if youíve been living in a cave, weíre called Perry Shepherd and the PerryScopesÖ like you didnít know that already!) Our show over at the newly re-opened Prawn Hall went smashingly, if I may say so myself. In particular, my guitar playing has really improved. I thought that my solo on "Mamaís Man" was, to use a rock criticís lingo for a moment, incendiary! I know it might sound weird, but sometimes I really impress myself with the things I come up with.
Thereís also some exciting news about Perry Shepherd and the PerryScopes. "What is it," Iím sure youíre breathlessly asking yourself right now. Hold your horses, guys and gals! Iím gonna tell you where you can find the electric details about PS AND THE PS (thatís shorthand for Perry Shepherd and the PerryScopes). "Where?! Come on, Perry, stop playing with us like that!", youíre saying right now.
I told you to relax! So relax, okay? "I canít relax when it comes to news about your band, Perry!" Okay, okay, hereís the scoop Ė check out 10 QUESTIONS WITH PERRY SHEPHERD for an interview I did with none other thanÖ myself! I know, that sounds strange, but it seemed like the best way to get the word out about the band and all. And I guess I do have a level of responsibility as a rock writer to write about the bands that people are dying to hear about, so in a way me doing this interview with myself is actually pretty journalistically responsible Ė more responsible than me doing a 10 QUESTIONS with someone like Glenn Chorch, the singer for Angry Planet, who PS and the PS happened to blow off the stage over at the Sagging Whale Tavern last Wednesday. (Sorry, Glenn Ė thatís the rock game. Itís kill or be killed.)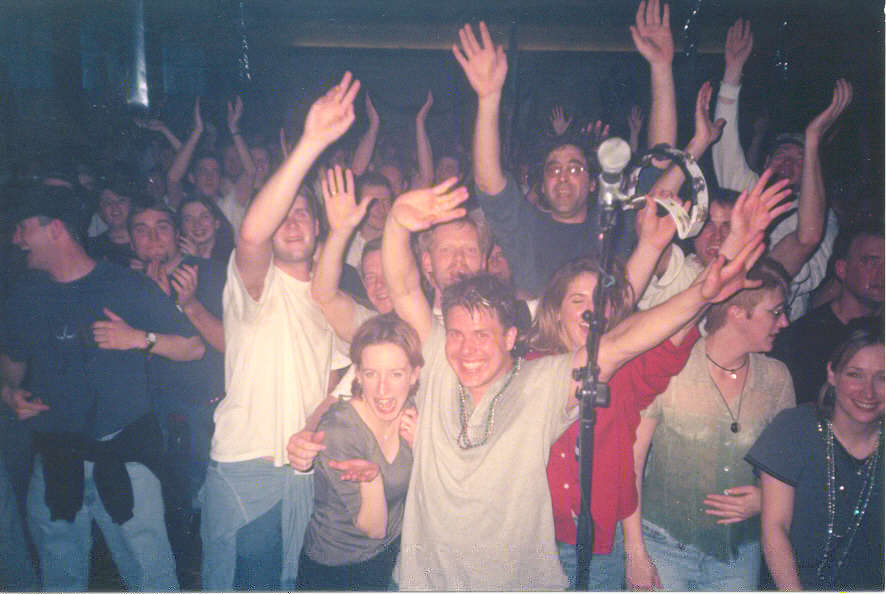 Those PerryScopes fanatics at The Sagging Whale
The other reason that I did the interview with myself was because I didnít want to taint my journalistic responsibility to this column. THE MAINE EVENT will NEVER be some sort of shill for any commercial endeavor I may be involved in. So the interview covers all the stuff. And donít worry Ė I asked myself some hard-hitting questions, as I do with every 10 QUESTIONS. No softballs from old Perry!
On a sadder note, the news of Bob Timmins' latest public debacle canít help but make one ponder their life and where theyíre at at any given time. Itís weird Ė not even a year ago Bob was riding high, topping out our Readerís Poll (which I am confident that Perry Shepherd and the PerryScopes will clean up in this yearÖ), and now he sits in a jail cell eating stale, day-old Dudleys and drinking water from the same small tin cup he also has to use as a toilet. While Iím having the time of my life, rocking out in front of tons of people, steadily getting more and more famous. Putting it that way, itís obvious why he would want to bring me down. But thatís life I guess Ė the powers up above choose to bless some of us and curse others. Hey, I ainít complainingÖ
Speaking of which, your truly was offered the Jeff Healy role in Lighthouse, the remake of Roadhouse thatís shooting up in our parts. Have I accepted the job yet? A resounding no. Why? Because Iíve got my eye on a meatier role, maybe something along the line of the role that Terry Funk has, or the part of the old farmer who rents Dalton the second floor of his barn. But if I do take the Healy role, I promise not to let all these Hollywood non-rock types hurt the credibility of our music one iota. And thatís a promise I plan on backing up.
Keep rockin
Ė Perry
---
10 QUESTIONS WITH...
PERRY SHEPARD
by Perry Shepherd
PERRY: SO TELL ME, WHATíS BEEN THE MOST SATISFYING PART OF BEING AN UP AND COMING ROCK STAR?
Perry: Well, I guess I would have to say the feeling of being up there, doing my thing in front of a hot crowd. Look, Iím not rolling in money or playing the big halls just yet, but I look at these times as the dues-paying days. That stuff will come later. And since Iím knocking my socks off now, sweating it out in the clubs, it will have been earned. Right now Perry Shepherd is all about the down-and-dirty aspect of playing, just enjoying it for what it is.
PERRY: HOW HAVE THE SHOWS BEEN GOING?
Perry: Good question. The shows have been great, just great. These shows are what I call future mythology gigs. As a writer, I understand what it means to build up the legend of a particular rock icon Ė itís the writer and the rocker working side by side to turn a normal human being into something thatís truly larger than life. And Iíve seen it done Ė with the Beatles at the Cavern Club or Springsteen playing all those dives in New Jersey. And Iíve done it as well Ė writing about Bob Timmins playing all those shows at Sea Bass Alley, trying to turn him into something that I thought he couldíve been. But he proved that he was truly a mortal man. I mean, look at that whole thing heís caught up in now. Itís ugly everyone Ė his fans, his family, everyone. I wonít make the same mistakes, trust me.
PERRY: THATíS AN INTERESTING POINT. WHERE DO YOU THINK THAT BOB TIMMINS WENT WRONG?
Perry: Great question. I guess Bob started to really go south when he realized that his rock image wasnít a jacket that you can put on and take off when itís convenient. Youíve got a real responsibility to yourself, to your fans, to the critics, and to the people whoíve gone before you in rock. If youíre going to step up there on that stage, youíd better have a will thatís stronger than anyone else within a 100-mile radius. And Timmins just couldnít pull it off. Heís a weak-minded fellow. What a pity to watch a guy bomb so bad. But now that Iím in the game myself, Iíd be lying if I said I didnít draw more than a little joy from his failure. Itís dog eat dog. If you canít take the heat, by all means donít play the game.
PERRY: HOW DO YOU PLAN TO AVOID THOSE PITFALLS?
Perry: It really isnít an issue with me, because Perry Shepherd is fully aware of what he brings to the table. Timmins never had a handle on his craft. Itís like those homeless guys who do the mime-fishing down by Wiltford Pier. Are you familiar with them?
PERRY: YES, I AM.
Perry: Well those guys have to have their act down before they get out there on a Tuesday afternoon to entertain the passers-by. If they canít do the act, nobodyís gonna drop a penny in one of their hats. But if they know what theyíre doing and appreciate and handle their craft, respect it to the point of being it, really being it Ė then and only then will that love come across. And I give those poor fellas all the respect in the world. Theyíre doing that mime-fishing for the love of it first and foremost. Like me.
PERRY: WHAT DOES THE FUTURE HOLD FOR PERRY SHEPARD AND THE PERRY-SCOPES?
Perry: Well, on a very factual level, Iím making some changes in the group. Look, nobody understands the importance of group chemistry more than I do, but there comes a time when an artist needs the proper tools to work. Do you think Havershant could do all that abstract clamshell art without the right paintbrushes? No, he needs the tools to work the way he has to. And I feel the same way. The vision Iíve got just canít blossom unless I get some real player behind me. So I made a change or two in the PerryScopes. Iím bringing in Wrichard Clark, whose a real powerhouse of a drummer Ė he played with Man Shak and Luck Oí The Draw over the last couple years. And Iím auditioning for a keyboard player right now, someone who can add some layers to the bandís texture.
PERRY: ANY HARD FEELINGS ABOUT SAYING GOODBYE TO YOUR GIRLFRIEND JOYCE?
Perry: Next question.
PERRY: WHATíRE YOUR ALBUM PLANS?
Perry: Weíre planning on laying down some demos early next year, then weíll be shopping the tapes to some major labels. We might entertain the idea of going with an indie for a one-off, but thatís unlikely. Iím still very suspect of their ability to properly distribute the product. Then weíll secure our management and whatnot. Then the skyís the limit, I guess.
PERRY: HOW ABOUT YOUR WRITING CAREER? WILL YOU BE FORCED TO CHOOSE BETWEEN ONE OR THE OTHER?
Perry: Writing is all well and good, but now that Iíve gotten a taste of the real thing, my passions have changed. No offense, writing served me well over the years, but now Iím actually living it myself rather than living through someone else. And trust me Ė living it yourself is infinitely preferable to watching someone else do it.
PERRY: I KNOW WE USUALLY DO A TEN QUESTION CHAT WITH OUR SUBJECTS, BUT I KNOW YOUíRE A BUSY MAN, SO IíLL LEAVE IT AT THIS.
Perry: Much appreciated. Thanks for the chat.
---