---
Rave On!
Western Maine's Only Rock 'n' Roll Paper
*a Velndoco Publication
---
March/April, 2001
'Night of Thunder' Concert Cancelled As Western Maine Loses 'Bass Capital of America' Title To North Delaware; Rioters do $30,000,000 In Damages
In a surprise last-minute turn of events the publishers of Bass Summit magazine withdrew Western Maine's title of 'Bass Capital of America' and bestowed the honor upon northern Delaware. When contacted, Bass Summit co-publisher Roger Rotellinoni said only that "things have changed," and "it is now obvious that north Delaware is truly the place with the most bass."
Rotellinoni
Rotellinoni's statement came just one day before the scheduled 'Night Of Thunder' concert at The Crab Lake Falls County Fairgrounds in Crab, ME. The concert, featuring Van Halen's Michael Anthony, Quiet Riot's Rudy Sarzo, Benjamin Hiatt (The Fixx), Fred 'The Man' Mandlebar (Brittany Fox), Kenny Bartholomew (Dokken), Garth Nottingham (Delbert McClinton, Bonnie Tyler) and Josh Sandoval (Ted Nugent's Wild Kingdom) among others, was to be the grand finale of the official 'Western Maine Bass Day' festivities.
Many other bass-related events such as Stonebridge' s Adopt-a-Bass program and West Hoover Elementary School's 'Bass for Kids' Concert were also cancelled. "These kids are devastated," said West Hoover Elementary band teacher David Clarington. "They worked their little behinds off learning 'Smoke on The Water' and 'Enter Sandman' and now they've got no concert to play -I'm really angry."
Western Maine became a hotbed of violence as word of the cancellations began to spread and a now-confirmed rumor that Rotellinoni had been given a house in Dover, Delaware's historic 'Colonial Heights District' by the city's Chamber of Commerce only fanned the flames. By 3:00 pm March 2nd both West Hoover and Shiptown were overrun with wilding bass enthusiasts.
One of the hardest-hit areas was Gorton Plaza, home of both the Golden Memories record store and the Ye Olde Sea Sounds Music Shoppe. Golden Memories owner/radio personality Rockin' and Boppin' Freddy Mugglorton stated that he lost half of his inventory to looters. "They just targeted me because I sell records," said Mugglorton. "Everybody knows I only sell the finest music from the early -50s to the mid- 60s --you can't even hear the fucking bass on those records." Sea Sounds proprietor Nelson Gilvan is recuperating in Crab Lake Hospital due to injuries he sustained when he was beaten with a BC Rich Bitch 5000 bass guitar.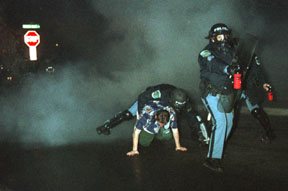 A rioter is tackled outside The Fishatorium in Shiptown
The 15 hours of violence and destruction came to an abrupt end when Commissioner Claude Velndonom sent in 10,000 New England National Guardsmen. Velndonom has been criticized for the Guardsman's 'bomb-first/ask questions-later' tactics. The Commissioner would not respond to allegations that it was the Guardsmen themselves and not the disgruntled public who were responsible for most of the $30,000,000 in damages. "We've grieved long enough, now let's concentrate on the things that we still have and make Western Maine great, like Velndonom Meadows, Lighthouse and the NNEFPFP.
---
TIMMINS TRIAL BOMBSHELL LANDS RAVE ON EDITOR IN SLAMMER
The already shocking Bob Timmins "Trial of the Century" took another surprising turn when Judge Samson T. Hopkitter sentenced Rave On editor Perry Shepherd to "an indefinite jail surveillance sentence" after defendant Bob Timmins stated under sworn testimony that Mr. Shepherd hired Mr. Timmins as an assassin, and announced that his target was none other than Bob Timmins.
Due to an obscure local amendment known as "Hangmanís Revenge," if Timmins is found non-guilty, then Shepherd will automatically be found guilty without trial and sentenced to an automatic 75 years of jail time. The "Hangmanís Revenge" amendment has only been used one previous time in its 140-year existence: a marsh farmer named Jeremiah Farmer was on trial for tilling a neighborís crabgrass, but that neighbor was actually executed by drowning upon the ruling of a not guilty verdict for Farmer.
While many in the courtroom considered Timminsí comments to be less than valid, Judge Hopkitter considered them "a confession of the utmost sort that must be investigated to its completion, lest justice see itself to its proper conclusion." The following is a transcription of the actual courtroom exchange:
PROSECUTOR: Tell me, Mr. Timmins, did someone put you up to this whole stunt?
TIMMINS: Yeah, sure.
PROSECUTOR: And who would that be?
TIMMINS: You tell me.
PROSECUTOR: If youíre not clear on how this courtroom thing works, Mr. Timmins, Iím here to ask you questions, and youíre here to answer them.
JUDGE HOPKITTER: I object!
PROSECUTOR: Um, ermÖ yes, okay, your honor. IÖ on what grounds to you object?
JUDGE HOPKITTER: On the grounds that this young man is obviously being railroaded by someone. And heís afraid to tell his side of the story. Am I right, defendant?
TIMMINS: Yeah. Sure.
PROSECUTOR: SoÖ who put you up to it?
TIMMINS: Umm. Oh, yeah. Perry Shepherd. Yeah, it was all his idea. He hired me to put a hit on myself. I was only following orders.
JUDGE HOPKITTER: I demand this courtroom be cleared immediately! Everyone retire to my chambers now! Now! I declare a bounty on the head of Perry Shepherd! Dead or alive!
Shepherd was consequently dragged from his shower and brought to the courtroom wet and naked. He is now imprisoned in a cell in Crab Lake Canyon Falls Correctional Institution in North Seaworth.
---
Real-Life 'Fonzie' Wows/Scares 'Em At Local Instore Appearance. Records album in Bentonton
Roland Gorchnick, the man on whom the Happy Days character Fonzie was based made quite an impression during his March 23rd personal appearance at The Book Marina in Shiptown. The 63-year old "Gorch" made his grand entrance atop a chopper-style motorcycle and proceeded to do doughnuts on the store's exquisite Persian rug while swinging a 4-foot section of steel chain over his head.
The author was in Western Maine to promote his new self-help book The Real-Life Fonzie's Guide To Real Life. "There wasn't nobody around tellin' me how to get out of trouble when I was a kid," said Gorchnick. "My book gives straight answers to serious questions like 'how long can my chain be to inflict maximum damage but not be ruled a deadly weapon' and 'should I use my chain or a piece of pipe for the big rumble?'
Gorchnick
A small but very vocal group of protesters picketed the store, railing against the misogynistic overtones in Gorchnick' s book. "Do you know what he says a young man should do if he 'knocks up a skirt'," asked protester Mary Levdenson. "First he says the boy should go to the malt shop and stand by the juke box and pound on it, then he says the boy should beat some nerd's 'pud' into the dirt and go outside and steal handburgers (sic) from the haggy waitresses." Gorchnick commented briefly on the picketers saying, "Those girls would be much less uptight if they would just put those signs down and let The Gorch feel them up for 20 minutes or so."
The Gorch's next stop was Ocean Tone recording studio in Bentonton where he laid down the tracks for his album, Chain Fight. Gorchnick went on at length about the album's positive message citing that several songs were about children's rights. "Kids today got it harder than we did back in the '50s," said Gorchnick. "The second song on the album deals with this --it's called "Pipe Fight" and the first line is "that nerd is gonna get stomped if he looks at me again/gonna pound his pud into the dirt like I did his friend."
Chain Fight will be released in July on Gorchnick' s own ChainPipe Records.
---
World Record Fever Hits Western Maine.
Western Maine has once again been added to the list of stops for the Grimness Book of World Records Tour. The New Foundland-based publication will embark on a 13-city "record breaking" tour on April 10th. Editor Mike Haselfarth said Western Maine was chosen because of its well-known history of record holders. "It's really quite amazing that such a small area has produced so many gifted people," Haselfarth remarked. "To think that Western Maine has given us Weldon Givens ( uninterrupted pencil flip/catch record holder: 22 days), Maude Shendt (widest feet: 8 inches) and Karl Wilkinton (most living ants stuffed in a person's mouth: 6 pounds) is incredible."
Here is a partial list of participants and the records they will be hoping to break on April 13th at the Bentonton Civic Hall:
Del Hasselbrink III ----Most Hubcaps Thrown In An Hour (record: 5,322)
Stephanie Oglethorpe ---Most Dudleys Eaten In 30 Minutes W/O Chewing (record: 42)
Ronald Denton ---Loudest Bass Solo (record: 135 DB)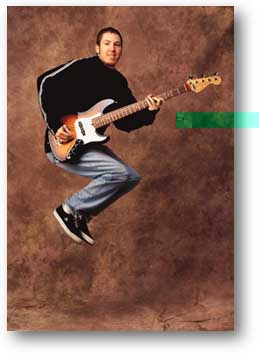 Denton
Sharon Benjamin ---Most Vases Smashed In 15 Minutes (record: 175)
Major Bradford Larkinson (Active) ---Fastest Recitation of Patton's Farewell Speech (record: 2 minutes 13 seconds)
Shawn Stefano ---Largest Candy Bar Wrapper Collection (N/A -new category)
---
Lighthouse Soundtrack Does Brisk Business in WM But Fails To Chart Outside Area
While the soundtrack to the Western Maine-produced film Lighthouse continues to fly out of WM's two record shops, other areas of the nation have been slow to warm up to the album. The soundtrack, featuring local artists Blues For Hire, Neckbone, The Bob Timmins Band (featuring Ronny Johnston) and The Albablar, Edmunds and Yud Spaceship among others, has sold approximately 12,000 copies in the Western Maine area but only 2 copies outside of WM.
"I'm baffled," said Hollywood Record's Neil Zucker, the album's coordinator. "This thing should be a monster -the John Parr song we added at the last minute is a #1...I don't understand it."
Zucker hopes the album's second single, "Lighthouse Nights (You Make Me Come Alive)" by the Bob Timmins Band (featuring Ronny Johnston) will push the record but added that the 4-week "make or break" time frame for the project is almost over and he will have to move on to his next priority: John Parr's Sweet Sweet Love album.
---
LIGHTHOUSE Reviewed In Major New York Publication
(From New York Live)
by Abigail Ballforp
I have seen the future of modern cinema, and it is LIGHTHOUSE. That is, if the future of modern cinema is turned over to a self-satisfied gaggle of borderline retarded yokels from Western Maine.
LIGHTHOUSE is not only the worst film I have ever seen, it is the worst thing that has ever happened, in any form. It is worse than any natural disaster or war crime. It is the most insensitive form of human cruelty that one being can inflict on another. See it only if you are interested in gaining perspective into what damages the perennial marsh-like clime of Western Maine inflicts upon manís brain.
I am afraid to delve any deeper into the film, but I will. The film is an updating of the Patrick Swayze trash-fest ROADHOUSE, a movie that was definitely not begging to be remade. However, when the original is stacked next to LIGHTHOUSE, it seems like a gift from the heavens. LIGHTHOUSE is apparently the mastermind of one Mandy Lynn, an attractive young lady who apparently sees herself as human debasementís answer to Orson Welles Ė not only did Ms. Lynn co-write, co-produce and directed this travesty, she also cast herself in the starring role. This decision seemed to have been reached more through hormonal needs than anything Ė throughout the entire film, there is literally not one scene in the movie in which Ms. Lynn isnít either half-nude or frantically rutting with one of her numerous co-stars. Of note is the scene in which Mandy Lynn has intercourse with the owner of the club "Lighthouse Nights" underneath a fully operating crab-shelling machine.

Ms. Lynn
The rest of the actors seemed to have been cast by throwing darts at a dartboard Ė or better yet, throwing darts at the heads of the actual performers, because their performances are so limp that they mustíve suffered some sort of cranial trauma during pre-production. Of inverse note is something called Perry Shepherd, whose re-interpretation of Jeff Healyís blind bandleader resembles an life-sized amoebae force-fit into a sausage skin. Although it might seem impossible, Shepherdís performance Ė and mere existence Ė makes one consider suicide time and time again.
Messes like LIGHTHOUSE invariably drag actual talent down with them, so pity poor Ben Gazzarra, who reprises his ROADHOUSE role. Enjoy that summer home or new car, Mr. Gazzarra Ė youíve most definitely earned it.
If I had to sum up LIGHTHOUSE in one phrase, I would have to say it is Western Maineís entry into the non-existent "porno-action-musical" genre. Thereís a reason that this genre doesnít exist, and for that same reason, the United States should consider turning the region of Western Maine into some sort of combination chemical dumping ground and prisoner testing site. Please, do the right thing, President Bush. At the very least, force Western Maine to secede from the rest of the country.
---
NEWS AND NOTES
JOHN PARR SIGNS WITH VELNDOLYNN MANAGEMENT, PLANS ALL-STAR COMEBACK
Rocker John Parr ("Naughty Naughty", "Man In Motion") has taken a huge step in the direction of a full-scale comeback. He has recently signed with local impresario Claude Velndonomís new management company VelndoLynn Management, and the rocker sees the top of the charts in his immediate future. "Itís great being a part of the Velndonom family," Parr declared at a press conference held at the CD Submarine store in the Velndonom Commons in West Hoover. "Theyíve got a real vision for me and my art." Some other notable VelndoLynn Management signings were Western Maine Crabmen QB Lance Butterworth and famed "junkyard chef" H. Royal DeBoise.
The first order of the day was for Parr to record a song for the soundtrack to Lighthouse. His song "(The Lighthouse Lights Shine) In Your Eyes During Those Lighthouse Night Nights" will replace the contribution by the recently-jailed Perry Shepherd and the PerryScopes.
Parr plans to map out a new album, and in the fashion of Carlos Santana, it will rely heavily on the talents of various Western Maine rockers. Already confirmed is a re-recording of "Naughty Naughty" with Tab Yud, and a vocal teaming with Albar Albablar, Sr. on a reading of "People Get Ready." Look for Parrís album mid-summer.
---
BOB TIMMINS BAND SUCCESS JUST KEEPS ON COMING
The debut album by the Bob Timmins Band currently resides at #54 on the Billboard Album charts, and nobody is more pleased than the members of TBTB themselves. "This is a dream come true!" drummer Stan Pettigrew excitedly declared upon receiving news of the recordís chart success. "When we were playing with our earlier line-up, the most I couldíve ever dreamed for would be headlining the Crab Shack. Now that weíve replaced certain elements of the band, the sky is truly the limit!"
BTB as they appeared in 1999. Former singer/guitarist Timmins is at far right, Pettigrew is at left.
Lead singer Ronny Johnston also received some exciting news Ė he was named to PEOPLE magazineís "50 Sexiest Rockers" issue. The enclosed photo of a shirtless Ronny straddling an inflatable raft in Grouper Lake has drawn a fair amount of attention as well Ė it will be made available in poster form in August.
The band also finally ended a drawn-out struggle of name rights with former leader Bob Timmins. "We own the name outright now," Pettigrew said. "Iím considering suing Bob for damages, considering what bad publicity it is, with his fat, sad ass rotting in jail right now." Pettigrew did have a suggestion for Timmins: "He should legally change his name to Blob Simpleton. Thatís what we all called him behind his back." Pettigrew credits Timminsí son Dylan with coining the nickname.
---
PAPPAS BACK IN HOT WATER
Georgio Pappas, no stranger to controversy, has found himself in legal trouble yet again. This time the master of the less-than-legal has launched a new batch of cover bands that he calls "Phoneti-Cover" acts. The names of the bands, while uniquely written, sound exactly like existing bands when pronounced. "Look, is it my fault that when people talk about some of my acts like the Pik-Cís, the Role In Stohns or the Jim E. Hendricks Ex-Perients they somehow conjure up memories of bands that may or may not have established themselves already?", Pappas explains. "Sorry, but thatís not my fucking problem."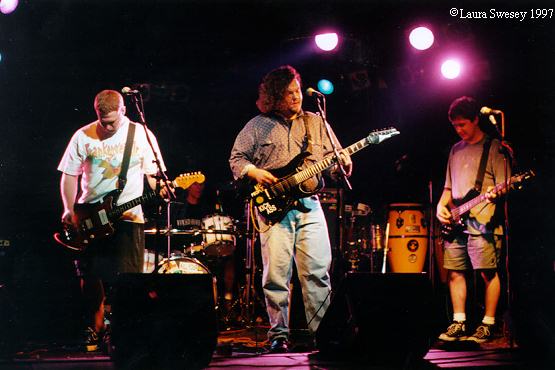 The Pik-C's
---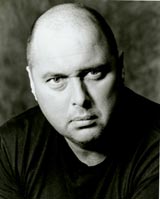 THE MAINE EVENT
by
Perry Shepherd
Editor
Holy shit this sucks. Right now Iím rotting away in some godforsaken jail cell right around the time the dead fish float to the surface at Crab Lake. Man, does it stink. But not as bad as the justice system in Western Maine! That quack Bob Timmins decided to make up some bizarre story of me hiring him to assassinate himself, and now because of some ancient law thatís still on the books, Iím looking at a possible lifetime in jail!
Iím going to have to keep this column short, because Iím writing it on a piece my leg skin, which Iíll slip to my trusty assistant Justin when he visits me in a few days. But now is the time for all of the fans of the PerryScopes to rise up and demand justice! Iím organizing a protest outside of the Crab Lake Canyon Falls Correctional Institution Saturday April 7th at noon. If you want me out of jail, turn out and chant for my forgiveness. Sing my songs, repeat my words, let them know that itís a crime to imprison artists! Weíre on this planet to create art that moves the masses, so the rest of you can get through your humdrum lives without shooting yourselves.
Iím also planning a boycott of the Lighthouse soundtrack. Apparently yours truly has been bumped off the CD for John Parr, that no good piece of crap. Just because he was the lead singer of The Firm doesnít mean heís some sort of god who gets what he wants whenever he wants! So please show up at the CD Submarine this Saturday (after coming to the jail protest) and let them know you wonít buy the record unless yours truly is reinstated pronto.
I was going to attempt a "10 Questions With.." from jail, but the only options were this guy named Bish who mops up the corridors or my pet fly Little Perry, so Iíll pass until next time.
FREEDOM!
Perry