---
Rave On!
Western Maine's Only Rock 'n' Roll Paper
*a Velndoco Publication
---
May/June, 2001
Timmins and Shepherd Freed On Technicality As Judge Hopkitter Passes Away (again)
The judicial system of Western Maine was shocked to hear that Judge Samson T. Hopkitter had passed away last Wednesday at the age of 106. Cause of death has not been established, although State Trooper Robert Harrops has yet to rule out foul play.
Hopkitter's death brings an incredible stroke of good fortune for the principals in the Bob Timmins trial. According to West Hoover law, all of the accused parties Ė which in this case were Mr. Timmins as well as rock critic Perry Shepherd Ė are absolved of all charges.
"What a fuckiní relief," Timmins said upon his release. "I thought I was gonna die in that cell. Now that Iím free Iíve seen the light. I gotta make everything right with everybody." Which was good news for fans of the original Bob Timmins Band, because Timmins has rejoined his old combo (see story below).
---
Bob Timmins Celebrates Freedom By Re-Joining Bob Timmins Band; Group's Fortunes Instantly Wane
A month ago, the idea of Bob Timmins reuniting with the group he founded seemed as likely as Mandy Lynn turning down an offer to get in a hot tub with the defensive front line of the Western Maine Crabmen. The newly-freed Timmins called a truce with his former bandmates and announced that he would be joining them on their current tour.
"It's so great to be back with Stan and the guys," said Timmins on May 24th. "I've gone through so much in the last year: breaking up with my wife, quitting the band, going solo, getting arrested for framing Perry Shepherd for my murder, man, it's been tough. I just plain needed the grounding force that these guys bring me." Timmins also added that he wrote 45 songs while in prison that he plans recording with TBTB. "These songs are tailor-made for this band. One of them is called 'Prison Blues,' and it will make you weep --when you're not rocking to the beat Stan's laying down! This is a wonderful new chapter in the TBTB saga."
But things seemed to go downhill for the band the moment Timmins' return was announced. The band's self-titled debut album which had been slowly climbing up the Billboard chart since November suddenly dropped 38 places. "Keep On A' Rockin'," the album's fourth single, was not added to a single radio station, and the band was unceremoniously dumped from this summer's "Legends Of Blues Rock Tour" which featured George Thorogood, Steve Miller and Robin Trower.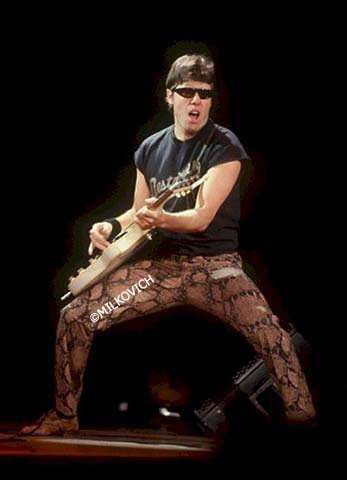 Thorogood
The band's defacto leader drummer Stan Pettigrew was beside himself when informed him of the string of bad luck. "Things were going great for us," he moaned. " Every fiber in my body was screaming 'no!' when that pud was groveling to be let back in the band. Why the fuck didn't I just tell him to eat pant sherbet?"
The Bob Timmins Band, now officially known as Bob Timmins' The Bob Timmins Band (featuring Ronny Johnston) will make its first Western Maine appearance since November at The Borderline Brew Pub on June 23.
---
New WM-Based Cable Network To Debut Rock 'n' Roll Show: Running Bands
Shout! Network! executives announced on June 1st that the new cable channel will soon be filming episodes for a program they describe as "Survivor meets Don Kirshner's Rock Concert."
Running Bands will follow the progress of four rock groups as they try to win fans and sell merchandise while playing their way through the many towns and clubs of Western Maine.
Ronald Latrice, a legend in combat and artillery publishing (he was the guiding force behind Trench Warfare and Blam! magazine) and the newly named head of programming at The Shout! Network! sees big things for the show. "This thing will be a monster," he shouted. "You'll see all the behind-the-scenes stuff you've always heard about but never actually got to see: fighting, hardcore lovemaking, wine drinking, pistol-whippings, it will all be there."
Latrice revealed the names of the four bands that will be participating at a star-studded luncheon at Grouper's in Stonebridge: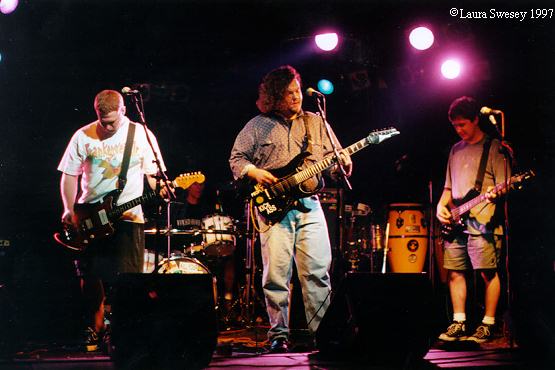 The Pik C's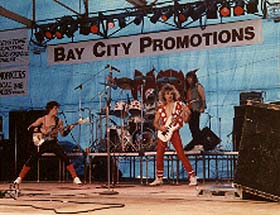 Heathen
Fat Tuesday ( Bentonton)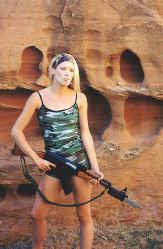 Sheila and The Argonauts
Each band will arrive in a predetermined town five days before their scheduled show and promote their performances and sell CDs and t-shirts. Each band will play a different club on the same night, and the band that sells the most tickets and merchandise will be the winner. After four towns, the band that is in fourth place will be eliminated and their equipment will be dumped into Crab Lake. The winning band will get to keep all the tour earnings and dump all of the remaining band's equipment into Crab Lake. The winning band will also star in Rock Doctors, a new Shout! Network! drama about a rock group that perform daring surgeries when they are not playing sold out concerts. The Running Bands tour will hit 10 towns in Western Maine from early July until late August.
---
LIGHTHOUSE BLOWS AWAY WESTERN MAINE BOX OFFICE RECORDS; TANKS HARD NATIONALLY
It was a case of "good news, bad news" for the producers of the motion picture Lighthouse, which opened in early April. The film was an off the charts blockbuster in and around Western Maine, shattering previous per-screen grosses set by The Legend Of Lobster John, the final installment in the Lobster John movies which was also filmed in WM. The film, which is actually a remake of the Patrick Swayze classic Roadhouse, pulled in an average of $32,000 per screen, forcing theatres to screen the movie in place of national blockbusters like Shrek and Tomb Raider. And audiences couldnít wait to get more Ė after leaving a showing, many audience members simply got back on line. Director-screenwriter-producer-actress Mandy Lynn couldnít have been happier. "Itís just such a great moment to share this work of art with everybody."
Fans line up to see Lighthouse at the Stonebridge Octoplex
(photo courtesy of TV4)
As popular as the film is, the merchandising associated with Lighthouse is even bigger. T-shirts emblazoned with different catchphrases from the movie ("Whereís Da Crab?", "Thatís the Way Daddy Likes It" and "Machine Gun Glory Never Tasted So Sweet!" are among the slogans) have been flying off shelves of novelty stores and gas stations throughout the area. And local Delpís Handburger Restaurants have sold out of plastic toys (like a miniaturized version of Perry Shepherd in a wheelchair or a tiny Mandy Lynn changing her bra) much sooner than expected. "Itís Lighthouse fever!", an unnamed employee at the Delpís on Delongpre Avenue exclaimed.
Unfortunately, the fever seems to stop at the Duncan Lake borders. As popular as the movie is in Western Maine, it seems to have tanked hard nationally. The film grossed a total of $36.00 nationally over a five-day period. And the reviews have been harsh Ė Roger Ebert called Lighthouse "a real piece of shit", and Rolling Stone's Peter Travers stated that the film was "a real piece of shit."
---
Real-Life 'Fonzie' Leaves Western Mainers Broke, Angry, Pregnant
Roland 'The Gorch' Gorchnick, the man on whom the Happy Days character Fonzie was based, has been placed atop Western Maine's "Four Most Wanted."
Gorchnick came to the area in April to promote his book The Real-Life Fonzie's Guide To Real Life but ended up staying for 4 weeks after falling in love with Ronda Timmins, the estranged wife of local singing semi-legend Bob Timmins. "Why do I keep getting involved with these creeps?" Timmins asked herself. "He came on so strong, just like Bob did when I first met him, and like a total boob I invited him to live with Dylan and me."
Gorchnick
But Timmins quickly learned the error of her ways. "The first week was great. He's a fantastic lover," she says. "But he became a complete bastard the moment after we 'did' it'. I actually caught him carving a notch into his belt buckle. There must have been 300 other notches on that thing." Timmins' horror was multiplied when she saw a naked Gorchnick chatting with a female neighbor in her front yard. "It was horrific," says Timmins. "He was just standing there completely nude, talking about the record he was recording. I yelled at him to get back inside and he said, 'You ain't the boss around here no more -the Gorch is,' then he asked me to sign over my car to him." Timmins refused to sign the vehicle over and Gorchnick moved in with her next door neighbor Lorraine Zeerfost.
Zeerfost also fell victim to Gorchnick' s manipulation. "I basically financed his new album Chain Fight without even knowing it," said Zeerfost. "That bastard forged my name on about twenty checks -the largest was for $10,000 for recording time at Ocean Tone studios." But the greatest damage Gorchnick did to Zeerfost was emotional. "He introduced himself to my father by saying he was my pimp," she says. "It was so humiliating. And the worst part is that my dad keeps asking me if I can get him a discount at Bordello Nights in West Hoover."
Ocean Tone recording studios also got burned. "That bastard actually owes us $10,000 more," said studio manager Rosh Margolin. Timmins apparently left town with the album's master tapes as well as some recording equipment. "He stole the damn mixing board!" said Margolin. "How the hell did he get it out of here? His whole band quit as soon as they got paid and everybody in Western Maine thought he was a bastard."
Gorchnick is being sued by Margolin for theft. Zeerfost and Timmins, both pregnant, are suing for child support . State Trooper Robert Harrops, tricked by Gorchnick into turning over both his gun and patrol car, is suing for emotional distress. Gorchnick is believed to be heading towards Nebraska.
---
French Rocker Pelted With French Bread At Local Concert
French rock and roll singer Jean Luc Sauffort's Western Maine debut could not have gone worse. Sauffort, on tour in the US promoting his new album, Oui, Oui, Rock and Roll, Si Vous Plais, was extremely shaken by the response that greeted him on May 30th at the Borderline Brew Pub. "I cannot understand what happened," said Sauffort. "I have played 22 shows on this tour and they have all gone very well, but this concert was a nightmare."
Insults were hurled at Sauffort the moment he took the stage. Although backed by a five piece electric rock band, Sauffort's vocals were quickly drowned out by the 300-plus crowd's chant of "go home frogs." Things got worse when two streakers sprinted across the stage -one carrying an American flag, the other a burning French flag.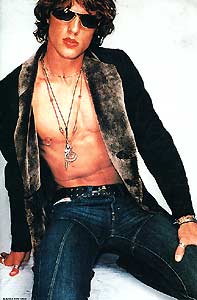 Sauffort
The final straw for Sauffort came when several audience members (including club owner Mike Bryon) began throwing day-old loaves of French bread at the band. The singer quietly unplugged his instrument and walked off stage.
Reasons for the anti-Sauffort sentiment were many. "What did those guys ever do for us?" asked Mikey Remmminggton, adding, "I mean, who are they trying to fool?" Local musician Dale Ronthet's ire was raised by the fact that the French band was "stealing money and thus food from my and my band Dale and the Pails' mouths."
An angry mob followed the band's van to the Bentonton Motel and surrounded it. The anti-Sauffort group circled the vehicle and began shaking it while singing Grand Funk Railroad's "We're An American Band." The melee was broken up when State Trooper Robert Harrops arrive at the scene. Only Remmminggton was arrested.
---
NEWS AND NOTES
NEW WESTERN MAINE SEARCH ENGINE GRIPS INTERNET
Residents of Western Maine have another reason to be proud Ė a locally-based Internet search engine is all the rage of the world wide web! The "Ask Grubby" search engine (http://www2.ask_grubby.com/@hardknocks/college/of_Western_Mn/under_score/colon_back_slash/grubby/ask.htm/html) is apparently the webís top-used search engine. "To tell you the truth, I created ĎAsk Grubbyí as a way for me to locate chat rooms that were discussing (deceased toilet radio disc jockey) Roddy Blake," states web designer Lionel Clark. "But it steamrolled, and now itís huge!"
Clark admits that none other than Claude Velndonom has contacted him about purchasing the site, but no deal has been worked out as of yet. "He started talking about buying the site, but after a couple minutes [Velndonom] seemed to zone out on me, asking me if I was aware of the fact that he could have me killed with the wink of an eye."
---
JOHN PARR MOVES TO WESTERN MAINE; PLANS UNDERWAY TO MAKE HIM FIRST ROCKER ON THE MOON
If the news that hard rockiní John Parr has signed with local VelndoLynn Talent Agency wasnít exciting enough, word has it that Mr. Parr has relocated to Western Maine. "This is fantastic!," Parr stated from the porch of his Bentonton shorehouse. "I plan on staying forever!"
The man behind such AOR classics as "Naughty Naughty" and "Man In Motion (Theme From St. Elmoís Fire)" has been hard at work on his new album. "The record is gonna be totally kick ass. Iím laying down some four-track demos right now with Charles Harch (ex-Troublemakers, Roland Gorchnick' s Chain Fight Band), and weíll be hitting Wharf Hits Studio in a couple weeks."
Although Parr was reluctant to discuss the event, the rumor of the year is that he plans on becoming the first rocker to set foot on the moon later this year. "Itís something that Mr. Velndonom came up with," Parr stated mysteriously. "I donít know that much about it, to tell you the truth."
However, a press release from Velndonoco stated that Parr would indeed become the first rocker to hold a concert on the moon. Details regarding the launch were sketchy, but it seems that some sort of contest will be held to determine who is in the audience for the big show. No opening act has been named as of yet.
---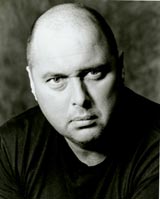 THE MAINE EVENT
by
Perry Shepherd
Editor
Hey-ho, gang! Guess whoís back out on the streets, free from the confines of prison bars and cockroach soup? Thatís right, yours truly! Iím back in the free world where I belong. That whole case was such a crock that Iím not going to even begin to go into it here. But suffice it to say that someday Iíll put pen to paper and turn the whole thing into a novel that will set the publishing world afire!
But not right now. Youíre probably saying to yourself, "thatís because youíve got to resume your career as a singer/songwriter." Afraid not. "Why not, Perry? You were so awesome at it! I loved Perry Shepherd and the PerryScopes." Hey, thanks. I appreciate it. But itís time for me to change things up a bit. "No! You canít stop rocking! Your band is the only good one out there!" Well, thatís just not true. "Name one group better than yours!" WellÖ I canít think of one off the top of my head, but thatís not what weíre talking about here.
Sitting in that jail cell taught me a lot of different things. I leaned how to turn a toilet into a stew pot. I learned how to make a knife out of a piece of chocolate. But most of all, I learned where my place is in the galaxy. One night as I lay on my cot, I started to think about my future. Recording albums, playing football stadiums, laying beautiful women Ė the whole deal. But then a voice spoke to me. It was that voice in the back of my mind, the one thatís been with me since I can remember. It was that voice that told me to write album reviews for the Bentonton Gazette, my junior high newspaper. It was that voice that encouraged me to enter the realm of Ďzine publishing Ė I published my first issue of Rocks A Lot shortly thereafter. And it was that voice that encouraged me to apply for a lowly assistant goferís position at Rave On so many years ago.
That voice has never lied to me before. And that night in jail, it told me to return to my true love Ė rock criticism. And then it hit me. I started to weep like a little girl that night. I had started to take the job of rock critic lightly. I didnít care anymore Ė I was more interested in rocking out with the PerryScopes and balling chicks than in penning concert reviews. And I am ashamed of that, to my core.
Why am I ashamed? Because, quite simply, the job of rock critic is a privilege, not a right. It serves a purpose as important to society at large as that of mailman or police officer. Like a cop, I patrol the new releases, telling average citizens which purchases to make. And like a mailman, I deliver that news regardless of the weather or any other hazards.
Joe Lunchpail needs me to tell him which CD-R he should purchase with his hard-earned scratch. He needs me to tell him which clubs to attend and which clubs to boycott. He needs me to guide him, to confide in him. To teach him, to reach him.
And I plan on doing it for the rest of my days. Why? Because I AM A ROCK CRITIC.
Much love Ė
Perry