---
Rave On!
Western Maine's Only Rock 'n' Roll Paper
*a Velndoco Publication
---
July/August, 2001
NEW TECHNOLOGY TO PUT WESTERN MAINE AT FOREFRONT OF ELECTRONIC AGE
As if Western Maine didnít lead the world in so many other exciting things (manufacturing of suntan lotion remover, the largest egg factory on the continent) , there is now a looming possibility that our area might be responsible for a new technology that would revolutionize the entertainment industry as we know it.
Known only as the XP-4, this brand-new electronic device would serve as a movie and music player, as well as a telephone answering machine. Developed in Velndonom Labs over the past two years, the players should be ready to hit the marketplace around October. Velndoco Electronics is planning to manufacture approximately 1.8 million players to start, with additional orders following as demand dictates.
The XP-4 (air tube not shown)
"We at Velndoco are extremely proud of this machine," Velndoco CEO Claude Velndonom stated at an unveiling party held at Velndonom Towers. "When this thing takes off Ė and I have no doubt that it will Ė the entire entertainment and electronics industry will run through Western Maine. The XP-4 player will lead Western Maine into the 21st century and beyond!"
And while the DVD and the CD seem to have the marketplace sewn up in regards to their respective media, the XP-4 would play a new, more compact disc known as the MMDMI (Micro-Mini Digital Machine Initiator). And the benefits to using a MMDMI disc over a standard DVD or CD is obvious Ė while the established DVD/CD size is a cumbersome 5" in diameter, the MMDMI discs are a mere ľ" and are made out of a soft clay. A computer chip is pressed into the disc and baked into the MMDMI disc.
Another feature of the MMDMI disc that outshines that of the currently accepted form is the amount of information that each disc holds Ė over four minutes of music and 100 seconds of video can be captured on each disc. And the MMDMI players also bring back memories of olden days Ė loosely based on the "nickelodeon" machines from "yesteryear", each disc is dropped into a coin-type slot on the face of the MMDMI player. And when a disc expires, the next disc is then placed into the slot. The average album is spread out over 50 MMDMI discs, and a standard movie would be contained across approximately 150 or so of the clay spheres.
And for those who demand remote control-type service from their entertainment, each MMDMI player is equipped with an air tube, into which the coins can be inserted and launched into the player by means of the individual blowing into the tube. The tubes are a standard 20í at present time, although makers report that longer tubes will be available in the near future.
And while the XP-4 has yet to officially seize control of the marketplace, Velndonom is encouraging locals to begin the process of quitting their current jobs, as demand for workers and engineers will put laborers at a premium. "This is an opportunity no citizen of Western Maine can resist," Velndonom said. "Iím certain weíll see conditions throughout the area not unlike in the days of the Gold Rush."
---
Bob Timmins Band Implodes As Group Is Let Go By Label, Manager and Booking Agent On Same Day; Band Splinters Into Seven Camps, Each Using Variation On TBTB Moniker
It seems the current version of The Bob Timmins Band has finally and officially called it a day. The band had been on a downward spiral ever since reinstating its original leader and namesake just two months ago. The problems began right after Timmins rejoined and continued to snowball as the summer marched on.
After a poorly attended show at the Arkansas Fairgrounds, the band was informed via telegram that it had been dismissed by its record label (Elektra), Manager (CAA) and booking agent (Monterey Peninsula). "It was so humiliating," said drummer Stan Pettigrew. "We're just sitting there in a manure-ridden stable and someone starts reading the telegram over the damn PA system." Pettigrew also added that because of CAA's departure there was no money to pay for the bus the band had been renting. "We had to sell our gear to a junk yard just to get the money to take a Greyhound back to West Hoover."
Most of TBTB's equipment now resides in the two black cars shown in foreground.
Lawsuits began flying as soon as the band members arrived back in Western Maine (8 days later) and Bob Timmins announced he would be laying claim to the TBTB name. "It's only fair, I am Bob Timmins," stated Timmins, as he left the county courthouse in West Hoover. Drummer Stan Pettigrew claims that since his signature is on the trademark papers the band name belongs to him, while rhythm guitarist Earl Meeks asserts that a drunken Timmins told him that he could have the name. Saxophonist Ted Hooper asserts that the name should be his because he has studied music the longest. Surprisingly, bassist/newest member Ronny Johnston claims that he deservers the name because he is "to 99% of the US population, the voice and star of The Bob Timmins Band." Keyboardist Roger Latherer has stated that he deserves the name because he "had to put up with those guy's shit for so long."
Matters became much more confusing last week when all seven ex-TBTB members announced dates for their new respective bands: The Bob Timmins Band (Timmins), The Original Bob Timmins Band (Pettigrew), Earl Meeks and The Bob Timmins Band (Meeks), The Bob Timmins Band (Featuring Ted Hooper), The Bob Timmins Band Show Starring Ronny Johnston (The Voice Of The Bob Timmins Band) and The Bob Timmins Band II (Latherer). Crab Shack owner Nel Bunckeols is one local music fan who is actually excited about the proliferation of TBTB spin-offs. "As long as these guys can put asses in the seats and the mouths attached to those asses keep drinking beer," says Bunckeols, "I don't give a crap what those idiots do."
---
Running Bands Retooled As Result Of Sluggish Ratings
Disappointed with initial ratings reports, Shout! Network! executives have ordered a dramatic retooling of its music-based reality show Running Bands. "Yeah, the numbers just aren't where we hoped they'd be," said Shout! Network! head of programming Ronald Latrice. "We were hoping for a much larger share than the 0.02 that we got."
Latrice is optimistic about the future of the revamped program. "I think the first episode skewed too musical," said Latrice, adding, "So now we're going to point the show in a grittier direction that everyone can appreciate." The grittier direction is one Latrice describes as "More Fear Factor meets Battlebots than Survivor meets Don Kirshner's Rock Concert."
In addition to dealing with sabotaged vehicles and fending off rabid wolves, Latrice stated that viewers can look forward to watching the four competing bands play concerts in venues less hospitable than the average rock club. "You will not believe the footage we got of Heathen playing on a rickety bridge suspended over Crab Gorge," said Latrice. "Those guys were playing as if their lives depended on it." Latrice also added that now, not only will the losing band's equipment get thrown into Crab Lake, the losing bands will be thrown into Crab Lake -with only one life preserver between them.
Latrice also stated that merchandise sales made to rescue workers and hospital staff will not count in the final tallies.
Running Bands airs Tuesday nights at 9:00 AM on the Shout! Network!
---
JUDGE HOPKITTER STILL ALIVE? RUMORS PERSIST

Since the dawn of time Western Maine has been a hotbed for mythology, legends and rumors (the infamous "Pincer Beast,&quot "Seaweed Sally," the legendary "Twenty-Foot Hobo"). Now it seems another chapter must be written in the legend of our famed region, as people in West Hoover have reported sightings of deceased area judge Samson T. Hopkitter.
The Honorable One passed away a couple months ago, but locals are certain theyíve seen the judge patrol the swamps along the Marshland marshes late at night. "Iím certain it was him," one resident stated. "He was limping through the marsh, swinging what looked like part of a wicker chair. He was moaning and growling like an animal."
A controversial photo that has been circulating throughout WM. Many contend that the 'Hopkitter Monster' is clearly visible between the two trees at left.
Law enforcement officials have launched a full investigation of the Hopkitter case. "Thereís no way weíre taking this lying down," Officer Robert Harrops said. "If Hopkitter has indeed come back as a zombie and is terrorizing the fine people of West Hoover, heíd better prepare himself to shit some lead when I get ahold of him. I think someone who studied the Black Arts has reconstituted the poor SOB. But either way, heís going down for the count this time."
---
NEWS AND NOTES
---
LOCAL PROMOTER SEEKS NEAL SCHON LOOK-ALIKES
Georgio Pappas is at it again. The Svengali of the WM music scene has something up his sleeve, and he needs a Neal Schon look-alike to make it happen. "Anybody who looks like Neal Schon, please come by my offices (located alongside Golden Memories on Crab Branch Highway South, next to the "$99.99 Store") and show me what youíve got." Pappas would not confirm that heís putting together some type of Journey tribute band, although initial rumors indicated that he might be assembling an act that would pay homage to HSAS, an unsuccessful Schon side project that also included Sammy Hagar. "Fuck you, itís none of your business what Iím up to," Pappas answered. "So get the fuck out of my office NOW."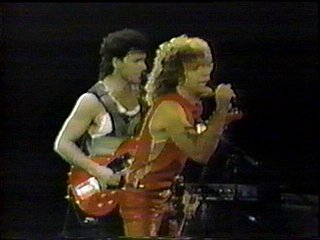 Schon and Hagar
---
TROUBLEMAKERS CONSIDERING REFORMING
The WM music scene suffered a massive blow when local favorites the Troublemakers called it a day six months ago, but now the band is giving second thoughts to their demise. "Weíre interested in coming back," bassist David Simmonds stated. "We actually never wanted to break up, per se. We just thought it would be a good publicity stunt to get people to show up at our gigs. Unfortunately it didnít really work." The band played its heavily-promoted "Last Go-Round" show to a virtually nonexistent crowd at the Walrus Falls Civic Center in February, which recorded its lowest attendance (41 tickets sold) since the infamous Rory Blake Memorial Tribute concert last fall.
Troublemakers bassist David Simmonds
"We shouldíve never actually packed it in," guitarist Charlie Walsh adds. "But itís just that things were a little soft in terms of audience, so we thought weíd light a fire under our fans by saying weíre packing it in. But they didnít show up for the final gig. We gave some thought to playing some secret shows the following week, but we thought that would be kinda cheesy. So we all went our separate ways. But I ran into David at the garbage dump last week, and we got to talking. We realized that we still had some unfinished business to take care of."
Tickets for the bandís "Reunited" show at the Walrus Falls Cyber Cafť go on sale this Thursday.
---
10 QUESTIONS WITHÖ.
JOHN PARR
by PERRY SHEPHERD
PERRY: So John, youíve moved to Western Maine. Youíve been working hard on your long-awaited comeback album. How are things going?
JOHN: Great, just great. The people up here are so giving, so generous. Before I got up here, I was a shell of a man, burned out, sick of rock and roll. But the fine people of Western Maine helped me recharge my creative batteries. Iím ready to take the charts again.
PERRY: Claude Velndonom has been somewhat of a mentor to you during your time in the area. Whatís that been like?
JOHN: Mister Velndonom is a very special man. I have no idea why heís taken such a shine to me, but he has. Heís treated me like royalty. Iíve been living in a cottage on the grounds of Velndonom Arms, just playing my old six-string like the old days.
PERRY: You were scheduled to be a part of his private moon launch Ė he even wanted you to perform the first rock concert on the moon. Was that your idea?
JOHN: No, no. That was all Mister Velndonom. I actually have no idea where that came from. I was totally honored by the suggestion, of course Ė I mean, what a thrill it wouldíve been to play "Naughty Naughty" or a new song like "Shanty Boogie" on the surface of the moon! But that all fell apart, so I wonít get that chance, I assume.
PERRY: Why would he put you in such a potentially life-threatening position? Youíre not a trained astronaut.
JOHN: Thatís just Mister Velndonom being Mister Velndonom, I guess. Thatís his choice to make. He just thinks I belong in dangerous and exciting situations. He told me once, "Parr, Iím gonna take chances on you and with you." And I guess if Iím going to let him take a chance on me, Iíve got to let him take a chance with me as well.
PERRY: Which Western Maine musicians have inspired you the most?
JOHN: You got four hours? (laughs) Bob Timmins is a favorite of mine. Just the way he keeps going and going in the face of everybody hating him, everybody wishing him ill will, itís very inspiring. He keeps providing something that nobody is exactly asking him to provide. Thatís what you call moxie.
PERRY: What are some of the cultural differences between your native England and Western Maine?

JOHN: Well, the Dudley, for starters. That was a shocker. The first time I ordered a ham and Swiss, I took a big bite and Ė wham! Ė got a mouthful of ice cold crabmeat as a bit of a bonus! Wow, that was a surprise. But Iíve really grown to dig Dudleys. Iíve taken to them Ė now I canít start the day without an bacon egg and oyster Dud.
PERRY: Tell me about the famous red white and blue guitar. What ever became of that?
JOHN: It got nicked backstage at a show in Texas. Iím still looking for it. But over at Craigís Music Hut in Bentonton I found a pretty nice guitar in the shape of Buddy Hollyís glasses. It plays great, too. That softened the loss of Clark.
PERRY: Clark?
JOHN: That was the name of my guitar.
PERRY: How are things going over at the Shout! Network!?
Fantastic. The show Iím hosting is just a hoot. Itís educational to boot. I learn a new fact everyday. Itís nice to get smarter as the days go by.
PERRY: Well, John Parr, you are a fascinating man. Thanks for chatting with us.
JOHN: Thank you, Perry. Thank you.
---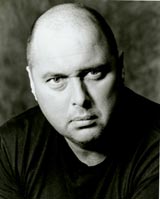 THE MAINE EVENT
by
Perry Shepherd
Editor
Hey Gang! Perry is back in the swing of things, doing what Iíve always done best, which is give you the lowdown on whatís hot and happening around the Western Maine scene. Those chowderheads over at the Vermont Electric Guitar donít get the scoops or the skinny the way olí Perry does! And thatís why youíve been coming back, year after year, making me the Dean of Western Maine Rock and Roll. So let the school bell ring - class is in session!
Actually, if this is a school, we need to have textbooks. And since Iím the Dean, I guess I should be the one to write it. So yes, Iím hard at work on my first long-form actual BOOK! Itís called WESTERN MAINE UNCOVERED: BENEATH THE BELLY OF THE MUSIC SCENE AND BEYOND AS TOLD BY WESTERN MAINEíS LEADING ROCK CRITIC. Sounds exciting, eh?
So yeah, this book will blow the lid off of the entire rock community. Iíve got so many great (and good) stories that I figured it would be a crime to let them die with me. Now Iím sure that the news of this book will send shivers down the collective spines of each and every local rocker around. If that means you, youíre probably flipping out, wondering if I told the story about the time you exposed yourself on the Fishing Hills Golf Course to a group of seniors (true story! In the book! And I name names!) Or you might be worried that Iíll spill the beans about the rocker who had to get some "relief", and since nobody was around to help him out, he "got off" with the help of a car door handle! (Also in the book!) I know someone out there is quivering at the possibility of me recounting the story about that drunken night behind the wheel of a stolen tow truck and the sad and bizarre consequences! (Itís in the book!)
Well, it will all be told by me, Perry Shepherd, in my first book, WESTERN MAINE UNCOVERED: BENEATH THE BELLY OF THE MUSIC SCENE AND BEYOND AS TOLD BY WESTERN MAINEíS LEADING ROCK CRITIC. Itíll be printed by Grouper Press around October, so get ready! Thatís all till next time!
Yours in rock Ė
Perry