---
Rave On!
Western Maine's Only Rock 'n' Roll Paper
*a Velndoco Publication
---
March, 2002
Western Maine Rocks Again!!!
Well, we did it. The nightmare of the last six months is over. We banded together and overcame the XP-4 and all its wickedness. If you've watched the early news reports, you have no doubt heard the moving stories of those who never gave up hope that we would one day be free of the evil XP-4 energy band and bask in the gloriousness of electricity, running water and heat. Even more uplifting are the tales of those young people who never lost faith in the greatest power of all: Rock and Roll.
"We were in the middle of a hot set at The Crab Shack when all the power went out," says Barth Grading of the West Hoover -based alternative band Rye Catcher. "We thought we rocked so hard that we blew the mains in the club but then we found out the whole city was in the dark." Grading and all of Western Maine would soon learn the magnitude of what really happened.
Fearful Western Mainers stayed inside their darkened homes for weeks while the XP-4 energy band's grip on the area strengthened. "The lack of heat and water I could deal with," says Fred "Lance" Jacobs, lead guitarist for Crab Lake's Pain Dealers. "It was not knowing when I was going to be able to crank tunes again that was the hardest."
By early December Western Maine rockers were at their wits end. "I didn't care if that asshole energy band messed with me," says Grading, adding, "I needed to rock!" So rock they did. In mid-December several musicians met in darkened seafood restaurants and planned secret rock and roll shows which would take place in secluded areas throughout Western Maine in late-December and continue until the hopeful dissipation of the energy band.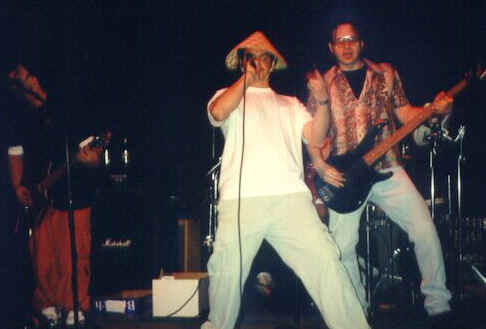 Gas Station Dog play a secret show outside Stonebridge
With generators on loan from local hardware stores, the shows came off without a hitch. The first concerts were not well-attended because of fears that the energy band would become aware of the concerts and mete out harsh punishments to show-goers. "We really took a chance," says Jacobs. "Luckily, the band was not able to fully monitor what was going on everywhere." More and more rockers began coming to the secret shows as word of a Western and eastern Maine alliance became known. "By early February we were all like, 'Oh, you can eat me' to the energy band," says Brod Kennefy, drummer of Stonebridge's Gas Station Dog. "It seemed like every band in town was playing at the secret shows."
While many bands did play, several artists remained fearful of aggravating the energy band. "I was terrified of that thing," says Nucklemoose bassist Roger Gillette of Crab Cove. "It was always telling me not to do stuff, and when it took images out of my digital camera because they were 'too sexy', I was just like, 'holy crap, this is too weird.'"
Now that things are back to normal most Western Maine musicians have high praise for one another. "This really brought us all together," says Kennefy. "With the exception of the guys in Smidgen everyone has a lot to be proud of." Members of Smidgen, the West Hoover-based ska band who are rumored to have spied for the energy band could not be reached for comment.
---
Bob Timmins et al lose name to former manager; Ex-manager to open 'Bob Timmins' XXX Restaurant'
The battle to prove which Bob Timmins Band member can lay claim to the name "Bob Timmins" has taken a bizarre and apparently final turn. Although Walt Billups only managed a solo Bob Timmins very briefly in 2000, he was legally granted not only ownership of the name "Bob Timmins," but Timmins' likeness as well on Wednesday by West Hoover Judge Stanley Stanleyson. "I absolutely cannot believe this (expletive deleted)," said a dumbfounded Timmins as he stormed out of the West Hoover courthouse. "If that (expletive deleted) judge thinks I'm actually going to let that (expletive deleted) have ownership of my name and likeness, he can eat (expletive deleted)."
Timmins made no comment on the notarized contract the status-hungry rocker signed back in July of 2000 which granted Billips "ownership of anything and everything I have in return for the fame and fortune I know is rightfully mine." Timmins must now procure Billups' written approval if he wishes to perform under his own name, make reservations at a restaurant, or sign his name to a check.
Billups was quick to tell of his plans for Timmins' name and likeness. "How many times have we all wished we could enjoy a high-energy sex performance while eating the best seafood Western Maine has to offer," asked Billups at a press conference just moments after Judge Stanleyson's ruling. "I am proud to announce that one will be able to enjoy both of these national pastimes at Western Maine's newest and greatest eatery: BOB TIMMINS' XXX FAMILY RESTAURANT."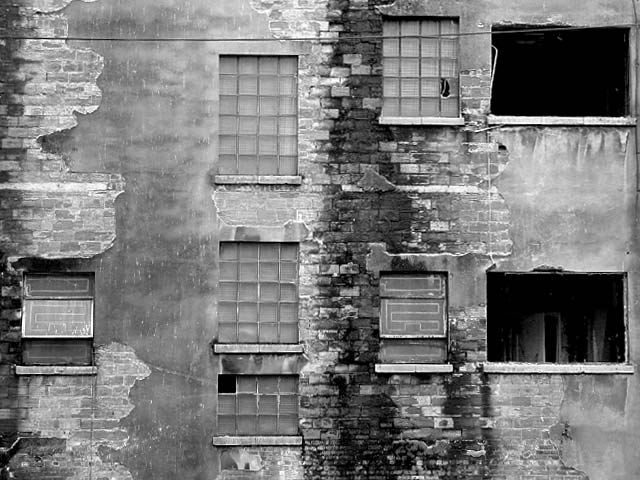 Bob Timmins' XXX Family Restaurant (shown here) is set to open in mid April in Bentonton.
Billups spent the next 30 minutes of the press conference graphically describing what area diners can expect when they sit down for "a good old-fashioned sex and seafood experience." Federal law prevents us from printing Billups comments.
---
NEWS AND NOTES
---
SUMMER 'ROCK OLYMPICS' TO BE HELD IN WESTERN MAINE
While Western Maine was rejected outright in its attempt to host the 2004 summer Olympics (the OEC actually filed suit against the area, on the grounds of 'flagrant disregard of all realistic notions'), the town's vital music community has responded with a new concept: the Rock Olympics.
The "Rock and Roll Games" will be held this August throughout Western Maine and its outlying regions. Local one-time rock hopeful Bob Timmins has been named chairperson of the event, and plans to make the most of his position. "Lots of people, they shit on rock and roll, not considering it an important part of physical fitness. Well I think that's bull, and the Rock Olympics should change that."
Among the planned events: 'bass canoeing', 'extreme skeet shooting', 'Manhunt', 'Drinker's Folly', 'Bass Toss', 'Beer Drumming', and others.
Shiptown' s Reggie Bloond has been training for the Beer Drumming competition since early 2000.
Interested athletes can sign up for the Rock Olympics at participating Stan's Dudleys Shoppes throughout the greater Western Maine area. Ask for the signup sheet at the counter behind the Crab Soda display.
---
WESTERN MAINE TO RECREATE JERSEY SHORE
The beaches of Western Maine are famous for a lot of things – the complete absence of seashells, the famous 'cutting sand' of West Hoover, that unique smell. But one thing that the shoreline seems to be missing is a New Jersey-styled boardwalk with rides and attractions. Until now, that is.
Claude Velndonom announced plans to develop a boardwalk that would cover the entire forty-five mile shoreline of Western Maine. The proposed endeavor would be constructed by Velndonom Construction in conjunction with Velndoco. "This is a most momentous occasion," notes Velndonom. "I am excited about bringing the excitement of New Jersey to Western Maine!"
Velndonom came up with the idea for the project when he saw an episode of Cops. "I was flipping around on the television and saw a live reality show with a man getting arrested on a New Jersey boardwalk. As the police mashed his face into the wooden planks, a great idea was born. And it was born in my head."
The face-mashing that inspired Commissioner Velndonom took place on the boardwalk in Atlantic City (pictured above).
To maintain the authenticity of the New Jersey boardwalks, Velndonom has established a board of directors comprised mainly of esteemed New Jersey residents, including Southside Johnny Lyon, Uncle Floyd Vivino, Danny Federici, John Eddie and a pair of as-yet unnamed members of the band Monster Magnet. The board of directors will be holding a public hearing on March 12th at the Gas Hut in Stonebridge to establish specifics of the boardwalk and whether the boardwalk would be funded with monies from a hike in water rates or electricity rates as Commissioner Velndonom has proposed.
---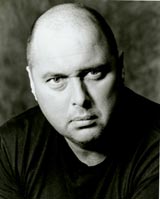 THE MAINE EVENT
by
Perry Shepherd
Editor
Long time no hear! I'm so glad we all survived the horrors the XP-4 brought.
There are so many things that I'd love to talk to you about, like how're you rocking, and what're you rocking to!
Old Perry has been hard at work, getting my tell-all book "WESTERN MAINE UNCOVERED: BENEATH THE BELLY OF THE MUSIC SCENE AND BEYOND AS TOLD BY WESTERN MAINE'S LEADING ROCK CRITIC" ready for publication. Vicky over at Velndonom Press thinks the book has a legit chance to cross over into the mainstream non-fiction arena – we're thinking about making a real push to get someone from Hollywood to possibly adapt the book into a movie or television series. Speaking of the old idiot box, yours truly has some pretty thrilling news to tell you about me entering the world of small screen entertainment. Unfortunately this isn't the right time, so I'll have to tell you about it at a later date (my agent Milt Von Voor tells me to keep my cards close to the vest on this one, and I will obey him, since he's a very wise man).
One of the most thrilling chapters I've been writing has been the one about Johnny "Burger" Monroe, Western Maine's leading disc jockey during the late fifties. Johnny was nicknamed "Burger" because he was pushing 2200 pounds. Monroe was so obese that he reached the point where he was unable to fit out of the WWMR station doors. They actually let him broadcast as Western Maine's "leading boss jock" up til the day he unfortunately passed away during a ticket giveaway (he was murdered). The station was unable to remove Monroe from the premises – and his body still sits in the studio today!
The book looks to be ready for publication sometime in the mid-spring, so keep an eye at your local book store about getting ahold of a copy!
I can't hold it back anymore! Mister Von Voor is going to flip when he finds out I spilled the beans about this deal before the contracts are signed, but I'm going to tell you!
What would you think about seeing Old Perry on the small screen?
What if I was hosting a game show?
Sounds good, right? Well let's make it even better… what if it was a rock and roll game show?
Now you're interested! And that's right – none other than Perry S. himself has created his very own TV game show! It's called ROCK SCHOOL, and it's a humdinger, if I can say so myself. It should be airing on the Shout! Network! soon.
How's the show work? Basically, the 'students' (who are actually the contestants) sit in wooden desks, and the host of the show patrols the 'classroom', (which is actually the set) standing in front of a large (hopefully digital) chalkboard, where questions will be written (hopefully in a chalkboard styled font) to be answered by the 'students' (the contestants).
The final round of the show would be called 'the pop quiz', where the 'professor' (who is actually the show host) will pepper the 'students' with a barrage of 'quiz questions' (which are actually just game show questions).
Not sure what this would be like? Well just sit down in the closest classroom desk to you and close your eyes. Are they closed? Good, good. Now open them!
"Students, which rock and roller sang the song "Magic Bus"?
"Students, which rock and roll band played the original version – that's right, the original version - of "Strawberry Fields Forever"?
"Students, which rock and roll vocalist played harmonica – that's right, harmonica – on the song "Like a Rolling Stone"?
"Okay, students! Put down your pencils (actually light-sensitive pens that'll write on the 'chalkboard') and put your heads down on your desks!"
More difficult than you thought, right? That's what I said!
And who'll be the teacher? Hmmmm…. How about yours truly?

That's right, the one and only Perry Shepard will be hopefully up there on the big stage, doing his thing. Should be a grand old time! But before you get all excited about the show, just keep a couple things in mind. The television business is a tricky one, and things work a little differently in it than in other industries. For example, the creator of an unaired television show is considered a "pre-producer" in television lingo, which means they are responsible for generating a basic amount of capital to get executives to attend what are called "pitch meetings". I plunked down my $11,000, and I've gotta tell you, those Shout! Network execs ate up the show lock stock and barrel!
I need to generate another $6,500 (to obtain the proper 'budgetary meetings'), but then we're on our way to television fame and fortune!
I'll keep you all posted!
Welcome back and keep it on the rock side!
Perry
---