May/June, 2001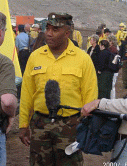 Hail to the King!
That would be me, y'all! Yes sir, yours truly is now in the record books ---twice. Not only did I break the world record for the fastest recitation of Patton's farewell speech (1:58 seconds!), I shattered the previous record for standing at attention while yelling (42 hours and three minutes).
I'd be lying if I said I wasn't reaping the benefits of my new-found stardom. The ladies sure do like a record holder. You can imagine the strain this has put on my marriage. But Joyce knows a good thing when she's got it. She'll just have to turn a blind I if she wants to ride the Larkinson gravy train.
I've hired a couple young assistants to help me field the lucrative endorsement offers that will be coming my way. I'd love to work with Nike and Remington and Mrs. Paul's. I think they have fine products.
I've sent a letter stating my newly-declared free agency to both the radio station and the Army. They want to keep me, they better play ball. I have informed both parties that I am at this moment in talks with Claude Velndonom regarding Night Patrol, a late night talk show on his new Shout! Network!
Night Patrol will give you everything you love about my radio show and so much more -plus you'll get to actually see me! I am constantly approached by people on the street who ask me about proper gun care. Well now you can actually see me clean and polish my many rifles and cannons! Plus, I will have the finest guests possible. Look for many of the world's greatest stars to join me in the foxhole (the desk and couch is such a cliché -my guests and I chat in a hole in the ground). I've got calls in to The Brothers Johnson, Pearl Bailey, Gerald Ford, Craig T. Nelson, Rodney Allan Ripey and Tom Cruise. This is going to be big.
---
Label News
We received a cryptic postcard last week. It came from China and all that was written on it was "Am getting better -face hurts still."
I will look into this and report back.
At ease!
Major Larkinson