July/August, 2001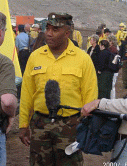 At ease everybody,
If you have been reading the West Hoover Daily Crab these last several days you are well aware of my recent problems. After I broke the records a couple months ago I declared that I was a free agent from the U.S. Marines and available to whatever corporation or entertainment conglomerate was willing to offer me the highest compensation for my talents. It appears that I have now been officially declared AWOL from the Marine Corps. There have been reports that a team of Marine-associated bounty hunters has been dispatched to bring me back to Quantico.
This is a blow to me because I have devoted my life to the service of my country through the Marines. That blow is softened by the fact that NBC has expressed interest in picking up my just-launched late-night talk show Night Patrol. This is great news because when I sign with NBC they are certain to buy me out of my unfair slave deal with the Corps. I just want to get it all over with. I really loved my time in the Marines but I now know that I am destined for bigger and better things than screaming my head off at some stupid little pea-brained idiots. I can do that at home with Joyce, Chitz and Zoompa!
Of course this could open a whole can of worms with Claude and everybody at The Shout! Network! Claude and Ronald have got to realize that a show like Night Patrol only comes along once in a statue's fart and it must be shared with as many people as possible. That's only fair.
Brian Stackton at NBC says the network has high hopes for the show. The only bad part of the whole deal is that I would be filling the crucial 5:00 AM to 6:30 AM weekday slot and not going up against those whom I feel are truly my equals: Dave, Jay and Conrad. Brian also says the name of the show will be changed to Dawn Patrol. The great news is that I will be able to get the very finest guests possible. I gave him my wish list and he said all were doable. He even thinks we can get Vern Troyer Sr. on!
---
Label News
We received another cryptic postcard. This time one came from Hawaii. The inscription reads, "Can't believe I'm able to eat solids again. It's been so long. Got the CDs but had to sell them to get the money for face."
I'm still unsure what this is all about.
Be on the lookout for a CD of the Best of Night/Dawn Patrol soon!
At ease!
Major Larkinson