---
Claude Y. Velndonom
CEO Velndoco Entertainment Inc.
---
July/August, 2001
Greetings to you all,
First I'd like to apologize to everybody who was affected by last Monday's events at Velndonom Meadows/Western Maine Spaceport. It seems we weren't quite as ready to launch as we thought we were. In an effort to cut down on costs (the budget for our first space shot exceeded our estimates by 32 million dollars -I would like to thank you all in advance for shouldering 3/4s of this figure) our crack team of engineers came up with a cheaper rocket fuel: Zelftar 134. Zelftar 134 is essentially a lower grade rocket fuel (imagine if your local Shell station sold 48 grade gasoline) that is, it turns out, about 1,000 times more flammable than the higher grade fuel that NASA uses.
Monday's massive explosion was the result of one careless worker's clumsiness. The worker apparently tripped while walking by the fuel tower, and in an effort to break his fall, grabbed a hold of a ladder fastened to the tower. It is said that the resulting fireball was seen as far away as Ohio.
I pledge that those few thousand of you who are now homeless will not be forgotten. Sleeping bags and tarps will be provided for everyone (provided they appear at Velndonom Towers in West Hoover between the hours of 9:00 AM and 11:00 AM on Wednesday and present at least two notarized documents proving home ownership). Let us take the advice given in that song that was popular last year: "don't worry, be happy."
I'm sorry to say that I've got more upsetting news.
Recently I was asked to contribute an audio commentary track to the Digital Video Disc version of Lighthouse that was slated for September release. As most of you know, I had not actually been able to see the film because of my hectic schedule. A couple weeks ago I found myself sitting in front of a huge TV monitor at Ocean Tone Studios preparing to share my experiences as executive producer of the film.
I wish I could tell you that I am still the same man I was before I saw the first three minutes of Lighthouse, for I am not. I could not believe that I was actually watching Mandy Lynn doing what she was doing with that crab during the opening credits. I left soon after the scene where Mandy Lynn and Rod Sterling go in the hot tub behind Lighthouse Nights just seconds after meeting. How could I have been such a fool? She told me this movie was going to be a cross between Thelma And Louise and From Here To Eternity. What I saw on that monitor looked more like a film I saw when I was in the marines called Puss 'n' Boots. Needless to say I am having all copies of the film destroyed.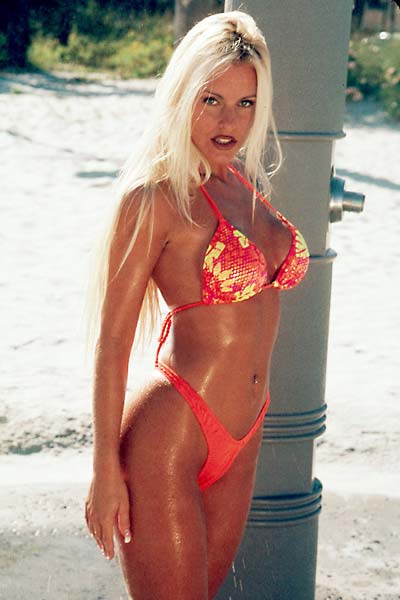 Sandy Lynn
I am pleased to announce that Sandy Lynn and I are engaged! Our engagement party at The Lobster's Lair was fantastic. The only sour note was when I found out what a liar Roy Troy is. Roy was to be the star quarterback of the Western Maine Crabmen and was also, to the best of my knowledge, a stand-up fellow. During his toast Roy stated that he wished the two of us well and that he only regretted that he wasn't going to get to "zap Sandy one last time." Now I did not find anything particularly offensive about this remark. I thought he meant he would miss playing Laser Tag with her (it is no secret that Roy was a stand-out player in the Western Maine Laser Tag Federation). Hours later my dear friend Major Larkinson informed me of the true nature of Troy's statement. Any information on Mr. Troy's whereabouts would be most appreciated and rewarded handsomely.
---
*Please go to the Rave On section for some very exciting news regarding a Velndoco Electronic invention that will change the entertainment industry as we know it*
---
The Shout! Network! News
I was so pleased with the performance of the first episode of Jerry Van Dyke's Crime Crunchers that I've ordered 325 more episodes. The first episode ("Murder On The Western Maine Express") got an outstanding 0.7 rating (by far the best showing of any of our programs) and was even reviewed in TV Times.
We are also in the process of shooting episodes of four new shows:
The Reggae Kid
( A touching dramedy about a musically-inclined young boy from Jamaica who is taken in by Western Maine family.)
Friends For Life
(A hilarious new comedy about the care-free lives of a group of Western Maine convicts.)
The Kidnapper Of Hearts
(Roger Delton just can't stop kidnapping gorgeous young women. And they just can't stop falling in love with him!)
and
President Baseball
(President Sanderson is not only the leader of the free world, he's also the star pitcher for The Western Maine Pikes!)
We look forward to bringing you these and many other fine programs.
Happy Viewing!
Claude Y. Velndonom